Are you looking for Xcentz xBuds S2. Once I received the package, I already love the way they design the box.
Are you looking for the best wireless headphones for working out? There are hundreds or even thousands of them that can you find easily in the market. It can confuse you if you don't know how to choose the best one, especially if you have a limited budget. Buy it randomly might end up buying a pig in a poke. It won't only waste your time, but also your money. So, why don't you read my Xcentz xBuds S2 review? I will also give you some tips on how to buy earphones for sport.
What to look for when buying sport headphones?
Before reading my review on Xcentz xBuds S2, I will share these tips. What to look for when buying sport headphones?
The first thing on the list should be comfortability. The headphones have to stay snug on ears when you are doing any kind of workout. Keep fixing its position on your ears during exercising isn't fun at all.
The best wireless headphones for sport should be sweat or water-resistant.
The battery life is the other thing you should consider when buying any kind of earphones, not only for working out.
Having a built-in mic and controls is also significant because it can be useful when you get an important phone call during exercising.
The last but also essential when choosing the earphones is the sound quality. Check if the sports headphones you are going to buy include a noise cancelation feature.
Xcentz xBuds S2: Best Wireless Headphones For Working Out (The Review)
What's In The Box?
Inside the box, you will get one Xcentz xBuds S2 Bluetooth neckband headsets, three different ear tips size (S, M, L), and one owner's guide book. Make sure you choose the right ear tips size to fit your ears.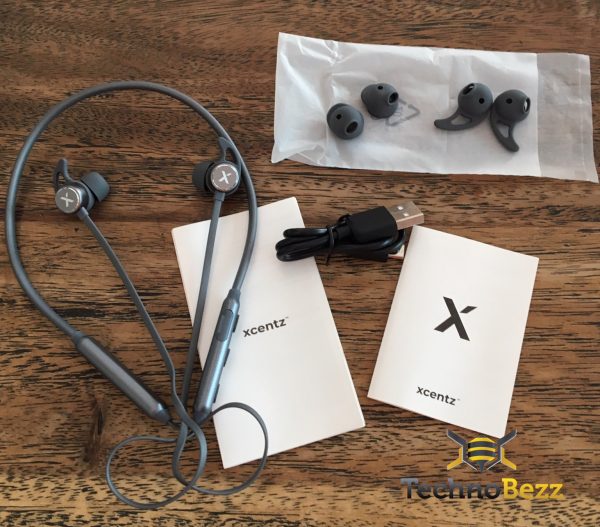 The Designs
If you are a big fan of simple design like me, you will surely love Xcentz xBuds S2. Once I received the package, I already love the way they design the box. It has a white color with not much information attached to it. When it comes to headsets these are beyond my expectations. The company has done a great job in designing the headphones. It comes with simple yet ergonomic design. The grey color and material they have chosen give it an elegant touch. Love it!
The built-in mic, power, volume controls, and charging port are placed together on the right side of the neckband. The earbuds have the built-in magnet that can attract each other when you pull down the earplugs from your ears. Awesome!
Comfortability
Remember the first thing in the buying guide list above? It's comfortability. So, Let's test how comfortable the Xcentz xBuds S2 is?
The neckband is very lightweight (0.75oz) and made of durable silicone material. So, it's super comfortable when I put it on my neck. It's like I don't use any accessories at all. The earbuds stayed snug perfectly on my ears. I have tested it for running, jumping, etc. The ear tips are made of soft material and that's also important. Fits perfectly and doesn't hurt your ears – these are two essential things when looking for the best wireless headphones for working out.
IPX7 Sweatproof feature
The IPX7 feature on Xcentz xBuds S2 will protect it from sweat and water. You don't have to worry using it for heavy workouts that make you sweat a lot. What IPX7 actually means? The device with this feature can be submerged up to 1 meter in water for 30 minutes. Thus, the xBuds S2 from Xcentz will stay in good condition when the rain suddenly falls while you are doing outdoor activities.
Bluetooth 5.0 Technology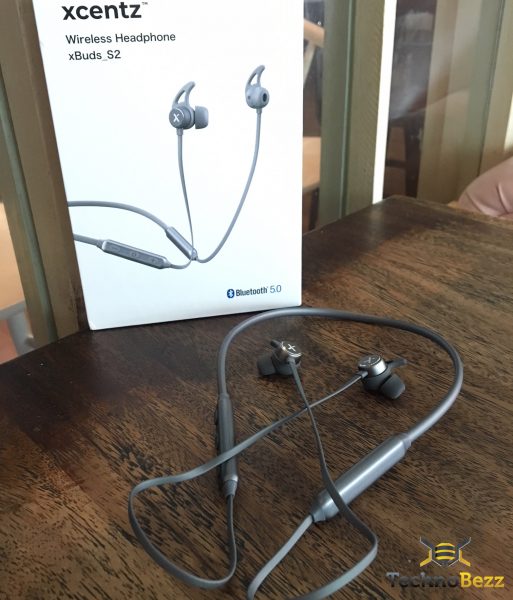 Xcentz xBuds S2 features the latest version of Bluetooth technology. It's not only faster, easier to connect, but also comes with lower power consumption, more stable signal consumption, and longer maximum range up to 234 meters or 800 feet. FYI,  the maximum range of Bluetooth 4.0 is up to 10 meters or 33 feet.
Another thing I like when it comes to xBuds S2 from Xcentz is the way it's connected to my iPhone. After I turned on the headsets and selected Xcents xBuds S2 on the Bluetooth list of my phone, voila! It's connected in no time without any hassle.
Battery Life
Thanks to Bluetooth 5.0 technology that allows the low energy transmission, headsets have longer battery life. You can listen to your favorite music on Xcentz xBuds S2 up to 8 hours. If it runs out of battery when you are going to use it for a one-hour workout, don't worry. Charge it for only 10 minutes and you will be able to use it for 70 minutes.
Sound Quality
Again, Bluetooth 5.0 brings many improvements, especially when we talk about sound quality. Together with double moving coils on it, you will not only get clear sound but also superb bass sound. In a quiet environment, increasing the volume up to 2 level is enough to immerse yourself into your favorite music. In the louder places, such as a gym or mall, increase the volume up to 50% and you will not be disturbed with the unwanted music around you. When I was at a gym where music is always quite loud, I turned the volume to 50% on my xBuds S2. Therefore, there was only me and my favorite songs without being bothered by unwanted music from the gym.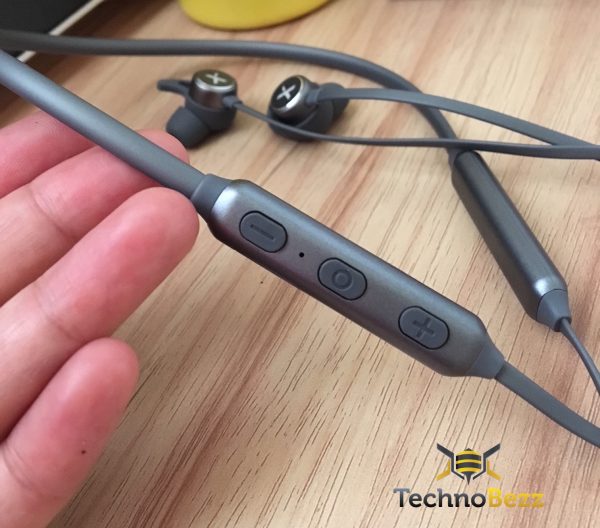 Built-in Mic and Controls
The placement of the built-in mic, volume controls, and power button in one place on the right is a great idea. The built-in mic isn't only useful when you have a phone call, but you can also use it to talk to Siri. For example, you may want to set the alarm or reminder. To do talk to Siri, just press the power button for about 3 seconds and start talking to Siri after you hear the sound.
Conclusion
Great features, simple, ergonomic and elegant design with an affordable price – these headsets are definitely worth buying. If you have a budget under $50 for buying sport headphones, Xcentz xBuds S2 is the best wireless headphones for working out. The price can go below $30 if you buy it from Amazon.
---