You can't send a business agreement or digital invoice using Word or Excel files. It is too risky. Those
You can't send a business agreement or digital invoice using Word or Excel files. It is too risky. Those kinds of files can be manipulated easily. That's why PDF (which stands for Portable Document Format) comes as a solution. If you are looking for the best PDF editors for Windows 10, this article may help you to find one.
Top 3 Best PDF Editors For Windows 10 In 2021
What do you expect from PDF editing software? Of course, it depends on your needs. Some people may need it for creating or just simply add comments or notes to a PDF file. Some others may need more complex editing tools. You may also consider its compatibility, easy-to-use user interface, price, more secure feature, etc. I have tested the 3 most popular PDF editing software in Windows 10 and compare them with an in-depth review. I hope it can help you decide which one suits you the most.
Wondershare PDFelement Best Adobe Acrobat Pro Alternative With Affordable Price
PDFelement 8 is the latest version of PDF editing software from Wondershare. This version offers performance upgrades and new features, such as Cloud Storage Services, Electronic signature, and more. Let's dive in.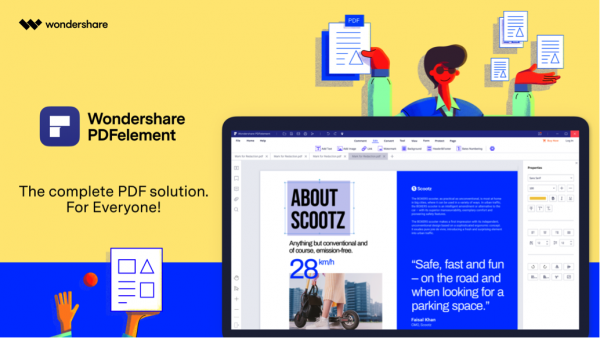 1. Conversion Speed
The faster you get your work done, is better, right? That's what every user expects from any kind of software and app. When it comes to conversion speed, PDFelement claims can convert 100 pages within 1 minute while its competitors need 2 minutes for the same task.
I tried to convert 100 pages of Document file with a standard Microsoft Word-square scattered randomly on each page. The conversion process from .pdf to .docx file (size 56 KB) needs 04.02 seconds and will take longer for complex files. For example, I need 09.54 seconds to convert 56 pages of files (823 KB) with some images on it.
PDFelement also includes more useful features, like conversion process, data extraction, bates numbering, optimization, watermarking, OCR, and encryption in a number of files at one time.
2. Easy-to-use UI

When you launch PDFelement 8 on your Windows PC, you will realise that it has a similar User Interface with Microsoft Office. Thus, you will not have any problem to navigate this app and find the tools to work on PDF file. Even if this is your very first time to use PDF editing software.
If you are worried that editing a PDF file will change the layout and font, well don't be. PDFelement 8 keeps the original formatting as it is.
3. Security feature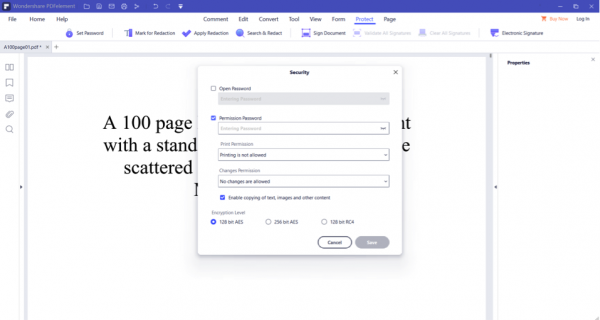 When you work on business documents or the other sensitive files, you need to make sure that the best PDF editor you are going to choose has advanced security feature. Therefore, the documents will not be manipulated by any parties. PDFelement 8 is provided by the advanced security features, i.e password, permissions, redaction, digital and electronic signature.
4. OCR feature
You can use this feature to change the scanned file or PDF-based images to become selectable and editable text. This useful feature will help you to finish your work faster and easier. However, the OCR feature on PDFelement requires you to download the OCR component separately. The file size is quite big as well. It is nearly 400 MB.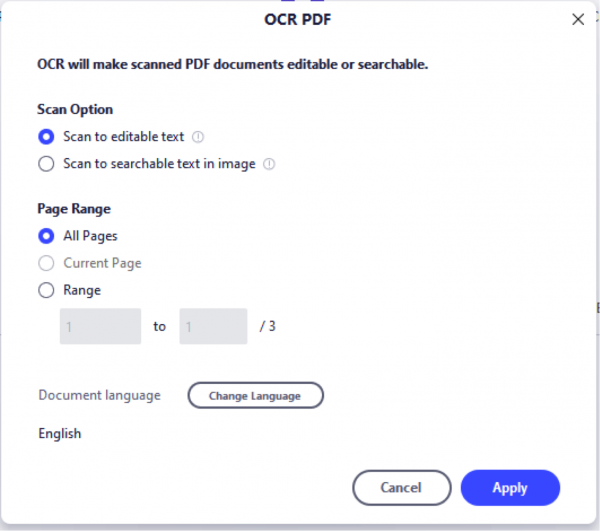 5. Annotate, Edit Text and Image
Once you install PDFelement 8 on your computer, you will be able to do a lot of things with PDF files, like add a comment, edit text and image, etc. It has a complete editing tool, like Note, Markups, Typewriter, Text Box, Stamps, Highlight, Underline, Shapes, Drawing, Area Highlight, Attachment, and more.

There is an option to change font and size of the PDF files. For editing an image, the app has a full package of options. You can rotate, delete, add the image to the document, change the text color, etc.
6. Compatibility
There are tons of PDF editors you can find on the internet, but only a few of them have high compatibility and can be installed on various platforms. While most similar products compatible with Windows and Mac only, PDFelement works with computer platform and mobile (iOS and Android). It will give you a seamless experience when you need to work from one device to another.
7. Price
The app comes with a free trial version with basic editing tools, paid standard version for $69/ year, and professional version with more advanced tools for only $99/ year. It is the best deal you can get from one of the best PDF editors for Windows 10. The price is almost 2x more affordable than Adobe Acrobat.
Pros
PDFelement 8 offers similar tools and features as Adobe Acrobat, but with more affordable price. Even when it is compared with the other best PDF editors for Windows.
Easy to use User Interface.
Super fast conversion process and keeps the original layout, font, and formatting.
It is connected directly to Cloud-based Storage (new feature).
It is equipped with advanced OCR feature to ease you in editing the scanned pdf file.
The Batch processing feature allows you to organize more than one documents at once.
It has a wide range of output format: Word, Excel, PowerPoint, JPG, PNG, TIFF, BMP, GIF, Text, RTF, HTML, EPUB, HWP, dan HWPX.
Cons
The free trial version is limited to basic editing tools only.
The free trial version has a watermark.
To use the OCR feature, you have to download another file separately.
If you buy it in Dec (launched period), you can save up to 50% on this new PDFelement.
Adobe Acrobat – The Original PDF Editor, But Expensive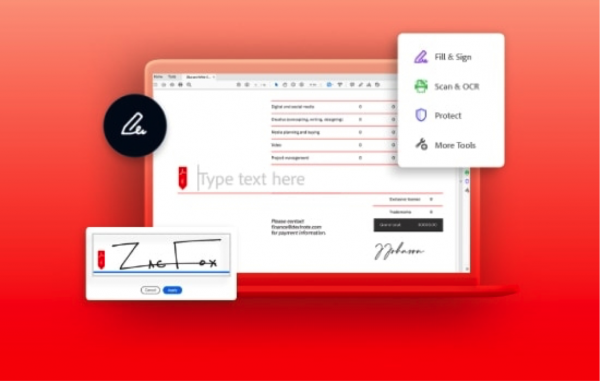 As the original PDF editor, of course, Adobe Acrobat has complete and advanced features that everyone needs, including the professionals. Those features are: Create, Combine, Edit, Fill & Sign, Export, Annotating, Scan & OCR, and Protect. Unfortunately, the price they offer is not cheaper. It is probably the highest one among the other PDF editors.
File Conversion
Adobe Acrobat DC can convert PDF file to another document format like Microsoft Office (Word, Excel, PowerPoint), text and image format, and PDF/A for archiving. You can also use this app to optimize files for web and mobile in details. This way, user can control how the files appear on different platform.
Collaboration
Adobe Acrobat allows you to collaborate through document like sending it to your colleague for content editing, signing up, and else. This app lets you to easily access all cloud service platforms, like Google Drive, Dropbox, OneDrive, dan more. Thsnk to its great cloud integration.
Pros
The best PDF editors for Windows 10 with complete features, customizable, and fast.
Compatible with Windows, macOS, and iOS.
It offers a high resolution output.
It has a free trial version with full editing tools.
Cons
The price is high compared to other PDF editing software ($179.88/ year).
For certain people, operating this app may not be too easy. They need to customize it to be easier to use.
Nitro Pro – One Of The Best PDF Editors For Windows 10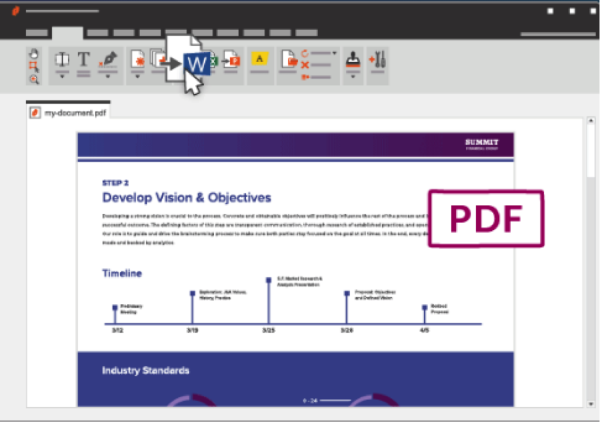 Nitro Pro comes with personal and business versions. With a complete editing tools and user-friendly User Interface, makes it one of the reliable PDF editing softwares. The features include Edit, Create and Merge, Review, and Collaborate.
File Conversion
Nitro Pro has the most conversion features you can find in other best PDF editors. As well as PDFelement 8 and Adobe Acrobat, this app can also convert PDF files to Microsoft Office format, images, text, and optimize document for web-based content.
Editing and Collaboration
Nitro Pro can help you edit documents extensively, like inserting page numbers, adding comments, logos, bookmarks, and watermarks. It can show bates numbering to label and index the document. Collaboration is not a big deal for this app because it is fully integrated with cloud services, such as Google Drive, Dropbox, and One Drive.
Pros
Nitro Pro has a clean, accessible, and fast User Interface.
It has OCR technology to edit and extract text from image/ scanned document.
User Interface design similar to Microsoft Office, makes it easy to use for Windows users.
Cons
Can only be used in Windows platform devices.
The price is pretty high ($159/ user).
This article was sponsored by Wondershare PDFelement 8
---