Family Sharing feature was made available to the users with iOS 8. The unique feature is quite useful and lets
Family Sharing feature was made available to the users with iOS 8. The unique feature is quite useful and lets you share the Apple purchases with your family. From sharing location on the map to iCloud storage this feature seemed to be great. However, there are some drawbacks too if the feature is not used wisely. Let us take a look at the pros and cons of iOS Family Sharing.
Read also- How to Add Family Members to a Shared iCloud Storage Plan in iOS 11
Pros Of iOS Family Sharing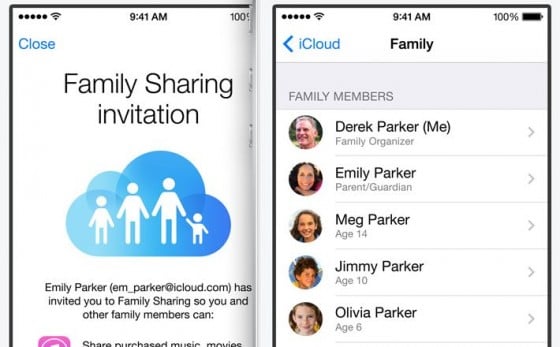 The first benefit of having Family Sharing around is that you can use the feature to share your purchases with the added family members. Whether it is an app, a book, or a song every member in the family doesn't have to make the same purchase for their devices. If a member has downloaded a specific game the others can download it too. Similarly, if someone on the Family Member list buys a song the other can share it without having to pay anything extra. All the purchases would be available on the Purchased tab in iTunes or the App Store. The latest iOS 11 also lets you share iCloud storage with your family members. In fact, Apple has upgraded the 1TB storage to 2TB for the same value.
Family Sharing also lets you create an Apple ID for a kid who is 13 years and less. Parents who had to use their Apple ID or fake their kids birthdays no longer need to do this. When the account of a kid under 13 is created the 'Ask to Buy' is set up by default. So kids cannot make purchases without the consent of the person managing the Family Sharing account. The kids would also have to wait for your permission to download the free apps too. A nice parental control!
Another benefit of the Family Sharing feature is that upon its activation there is a Family Calendar and a Shared Photo Library which is created. You and your family members can update all the schedules so everyone knows the important days such as your son's parent teacher's meeting or your daughter's gymnastic classes.
Cons of iOS Family Sharing
There may be times when you will not want to share a specific downloaded app or song with your children and you would want to hide it from the Purchased tab to prevent them from downloading it. This, however, is not possible from your iPhone instead you will have to do it from your computer through iTunes. Till the time you have logged in and made the changes, the purchase will be visible to all the members of the family. If they have already downloaded the app or song before you hide it the song or app or movie stays on their device and can't be hidden or undone.
For those who are sharing iCloud Storage with their family members don't have any control over the usage of each member. They cannot be allocated a specific storage space but the space that every person is using can definitely be seen.
The Family Sharing feature is an advantageous one and although there may be a couple of restrictions to it now Apple may slowly come up with ideas to overcome them. For now, this feature is definitely worth using because it saves a fair amount of money spent.
Read also- How To Upgrade To A Family iCloud Storage Plan In iOS 11
---