When you are in the mood to spend some time watching movies or tv shows, what's better than Netflix? You
When you are in the mood to spend some time watching movies or tv shows, what's better than Netflix? You log in, choose the show or a movie, and the fun may begin. Even though Netflix works great most of the time, now and then, an issue may pop up – perhaps Netflix won't load, or it may report an error.
The basics
There are a few things you should try right away. As Netflix can't work without the internet, check your internet connection. You may experience Netflix issues even when you have the connection, but when it is slower than usual.
If you cannot sign in, ensure you have typed your login information correctly. If more than one user has used the account, ask them whether anyone changed the password.
Let's also mention that the service might be down at times. In that case, you have to wait. You can check if Netflix is down in two ways. You may visit a website called DownDetector. This site shows the outages for all kinds of services, including Netflix. You may visit it by typing Netflix into the search box, and it will show you if the service is down. Another option is to visit the Netflix website – there is a page dedicated to the specific situation – is Netflix down? And whenever you visit the page, you'll see if the service is down or not.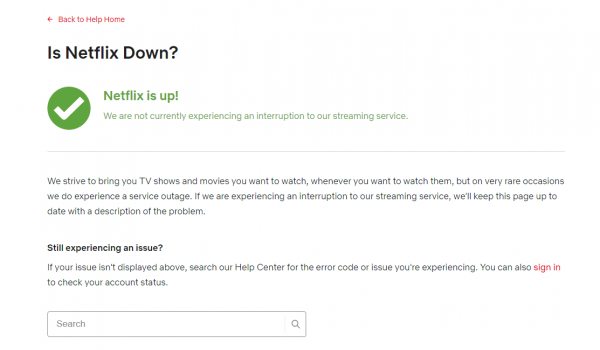 You can also restart your browser, your computer, or your phone/tablet. If you are using the Netflix app on any of your devices, make sure the app is up to date.
Check the version of your graphics drivers as well. Update to the latest version. You will also need Windows 10 Silverlight to stream video. If you need to download it, visit this link.
Netflix loading slowly
If the streaming is not quick enough or the quality of the content is bad, check your internet connection. First, you must restart the device you are using to watch Netflix content. Also, restart your router by disconnecting it for 1 minute and then reconnecting it again. Just like the router, restart your modem as well. Try to use a different device to see if the internet is okay.
Updating or reinstalling Netflix
As mentioned before, if you are using the Netflix app, ensure it is up to date. If any newer version is available, download and install it.
First, go to the store for your OS and find 'The Netflix app.'
If an update is shown, download it.
If you have the latest version but still have issues, you may remove the app from your device, head to the app store, download, and install the app again.
Error 12001 on Netflix
Many users have reported error 12001 while trying to use Netflix. You may see the error if there are outdated data on your device.
Go to 'Settings.'
Select 'Device' and then 'Apps.'
Then, select "Netflix" and tap on "Storage."
There will be an option for "Storage."
Click on that and Tap' Clear Data'.
Now, all your data will be refreshed.
You will have to enter your email and password again.
Encountering black screen while playing videos
Sometimes, a black screen may appear while trying to play videos on Netflix.
First, disable your anti-virus temporarily while using Netflix because many anti-virus programs are not compatible with Netflix. Also, delete the browser's cookies from the browser's settings option. If the problem persists, then use a different browser. You can also disable the current plug-ins.
Resetting the Netflix app
You can reset the app if your Netflix is showing a loading problem.
Go to your device's 'Settings' option.
Then, go to 'Apps > Apps & Features'.
Find Netflix Apps.
Then, tap on 'Ad.'nced options > Reset.'
If you have a good internet connection and have tried all the steps listed here, but nothing seems to work, you may contact Netflix. You can either make a call or start a live chat.
---