Tired of signing in each time you visit your preferred site using the Microsoft Edge browser? Microsoft Edge
Tired of signing in each time you visit your preferred site using the Microsoft Edge browser? Microsoft Edge has a solution – the browser can save passwords and enable automatic login to your favorite sites. Below is a list of ways to manage your passwords.
Access Logins from Edge's Advanced Settings
On the opened page of Microsoft Edge Browser, select the menu button (three dots, located on the upper right side of the screen), a drop-down list of options is displayed, and then select "Settings."
Move your cursor to the "Profiles" button and click on it
Navigate to the "Passwords" option.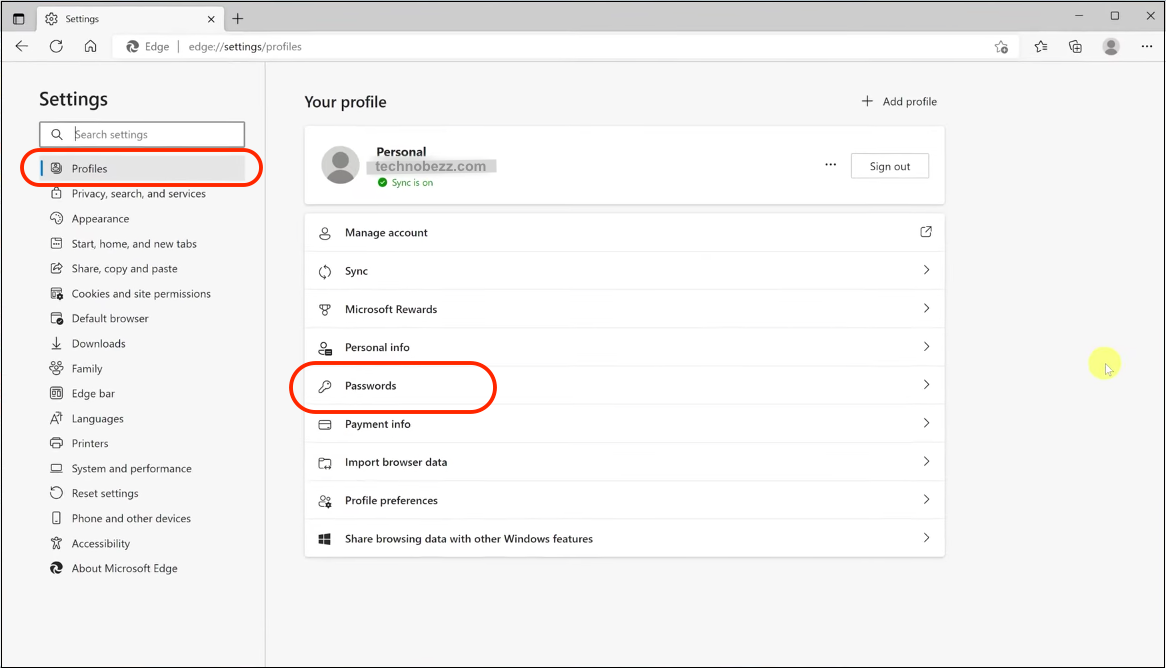 Select and click on one of the logins to edit your username or password.
To edit or delete your login information, right-click on a login, open it in a new tab, and have your password and user name filled in. Edge will open a site from Windows Credentials Manager, where you will be able to edit.
Passwords Configuration
For more information about showing your passwords for your saved logins, you will need to navigate to the system settings and set your desired preferences.
On the keyboard, simultaneously press Win+X and select "Control Panel."
Select and open "User Accounts."
Navigate to the 'Web Credentials' item.
Here, a list of logins for apps, networks, and websites saved by Microsoft Edge will show up.
Use the down arrow to view all the displayed logins
Select and click on the "Remove link" or "Show link" to remove or show the password of that particular login credential. Your account password would be required first for you to see the web password.
Now you can log in once and save yourself the hustle of logging in every time.
Windows 10-Microsoft Edge browser
The new version of Microsoft Edge Browser in Windows 10 now has an improved feature that enables you to save your web passwords and credentials in the browser. After you have signed in or logged in to your favorite site, a dialogue box pops up asking you if you would like to save your credentials, and once saved, future logins are just automatic.
You may have been using the Microsoft Edge browser as your primary surfing browser and have multiple credentials saved. This will help you view your password for specific web addresses and add it to other applications.
Also, you might have noticed that with Microsoft Edge, there is no direct way to access those passwords; even though it's easy to save or delete saved passwords, you cannot view them. This is due to security features installed in the Edge browser for your privacy and security, which is why you only see an asterisk instead of the typed password.
Credential Manager
Fortunately, there is a way for you to view these passwords. This can be quickly done by following the simple steps that are going to be listed in the following section without the use of third-party software. The passwords are easily managed by launching Credential Manager, a built-in utility. Credential Manager lets you view all your saved passwords in the Edge browser and delete them if you want.
Type "Credential Manager" in the taskbar search box and press Enter.
On the Credential Manager menu, select Web Credentials to view URLs for which Edge passwords are saved.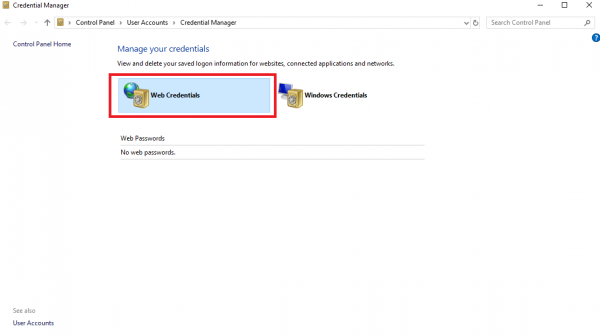 Select and click on the URL you want to view the saved password
Don't be alarmed if it doesn't show up after the last instruction because Credentials Manager, by default, doesn't show passwords.
To see your password, click Show link, and you will be required to enter your account password.
Note: the account password is for your local user account or Microsoft account.
---