One aspect of modern computers, phones, and gadgets that makes them unique is the ability to update system software and applications. Windows has mastered this and regularly releases updates, making user performance more enjoyable and flawless.
The updates, of course, can be annoying at times, especially when it comes at a time when the user hasn't been having any issues and feels that it's pretty unnecessary. However, it's essential to know that updates also play a key role in 'maintaining' perfect performance and can prevent any issues on devices.
Therefore, it is always wiser to jump on them as soon as they roll out. Here's a simple guide to ensuring a flawless experience with Windows 10 through updates.
Auto Update
Computers can update themselves as soon as the update is released. This feature is pre-set to automatically check for new updates periodically. Here are a few points to note concerning the auto-update.
Automatic updates can be set to a frequency, i.e., the computer will check for any recent additions from the developer at set intervals.
Navigate to Settings and click on Update & Security.
Set the preferred frequency for update checks, e.g., every week.
Keep in mind that Windows 10 will automatically check for updates as soon as it is connected to a network, so simply set the limited network as a "metered connection."
Click on the network you don't want to be used for updates and navigate to its properties.
Scroll down to the options and toggle the 'set as metered connection' button to 'ON.'
The automatic update mainly focuses on downloading all the update's new features, such as security patches, visuals, and bug fixes. Once the download is complete, whether by a pre-set schedule or impromptu check, Windows 10 will give a notification that the computer needs to apply or install the new update features.
All you have to do is restart the computer. This process is not optional. However, you can choose to postpone it, although once the computer shuts down, it will still install the updates the next time you switch it on. This, of course, can take a while, so it's best to do it yourself when you're not in a hurry to use the device.
Manual Update
If the computer is set on an update frequency, it won't install anything until the designated time, which can be inconvenient, especially for critical updates like security patches. The good thing, however, is that it can be commanded to update.
First, connect to a powerful network and ensure it's not on a limited data plan because updates usually use a lot of data.
Go to the Windows start menu on the homepage in the lower-left corner and click for options.
Click on the settings panel, which will display a gear symbol.
Navigate to the option for Updates & security and select it.
A panel on the left will display options for Windows updates. Select the 'check for updates' option and give the device a while to process.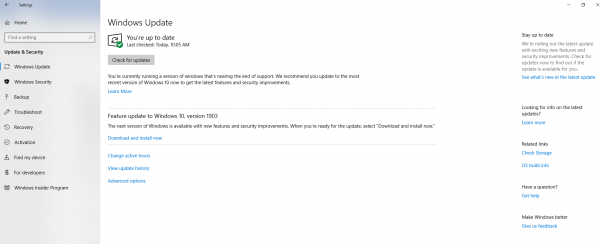 Windows will prompt you to initiate the update process if any updates are available. You can also easily set an updated schedule to avoid disruptions and allow the device to make the necessary downloads in the background and restart later to effect the changes. If no updates show up, then all is well.
---