The "Speed Dial" initially was a function in one of the oldest versions of the "Opera" browser, but then migrated
The "Speed Dial" initially was a function in one of the oldest versions of the "Opera" browser, but then migrated to the other web browsers and now it is impossible to imagine any modern browser without this feature. The view of frequently visited pages in a new tab is now implemented in every browser, but, as usual, the standard functionality doesn't always satisfy all the wishes of the users, which is compensated by the installation of add-ons. The same applies to enlargement of "Speed Dial" for Firefox, which is designed to replace standard view of bookmarks in Mozilla Firefox browser. This guide will show you how to set up the Speed Dial in Mozilla Firefox.
You also may read: How To Add And Configure Parental Controls In Mozilla Firefox
How to set up the speed dial in Mozilla Firefox
To begin, we need to go through the process of the installation. Luckily, every good browser has a built-in app store, so to download and install the ".exe" files is not necessary. To download Speed Dial for Firefox, you need to:
Start your browser
Open Menu in the top-right corner of the screen; select "Add-ons" option from the drop-down list

Click on "Get Add-ons" and in search field enter the name of the desired extension (in this case – "speed dial") and click on "Enter" button, to start the search process

Click on the "Install" button in front of "Speed Dial " and wait until the installation complete

After installation, you must restart the browser add-ons. After re-opened Firefox, Speed dial offers the standard set of sites.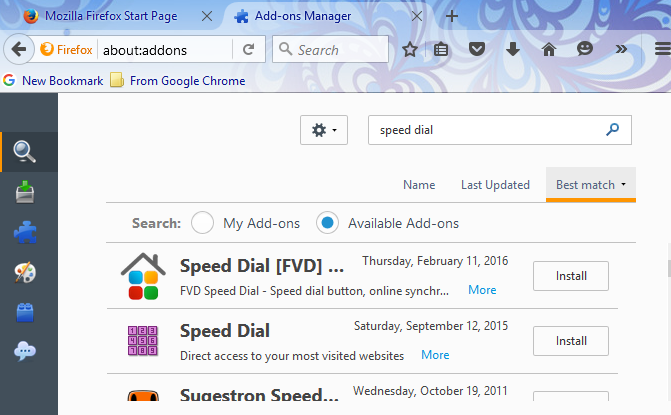 Now what you need is to make the initial setup and add your own sites. In order to remove the existing sites:
Move the mouse cursor on any of the already added sites
Click on the red "x" in the bottom right corner of speed dial site
Confirm removal and repeat the process for the rest of unnecessary sites.
To add your own sites in the Speed dial, you need just a few clicks:
Click the "+" button in the "Speed Dial"
Enter the website address in the "URL" field
Enter the title in "Dial title" field, or leave it empty. Pick an image from the right, for the preview, and press the button "Create Dial" and close "Create/modify dial" tab.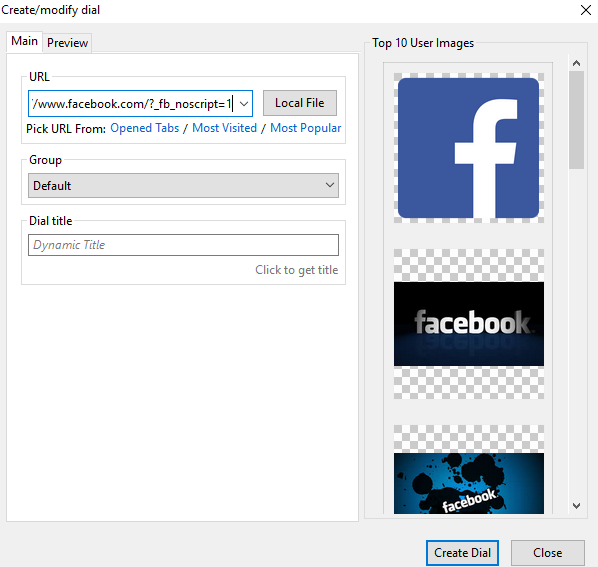 Image Source: www.ziogeek.com
You may also read: How To Quickly Delete Mozilla Firefox History
---