Popcornflix is a great web platform that contains a huge library of movies and TV shows that you can watch online
Popcornflix is a great web platform that contains a huge library of movies and TV shows that you can watch online for free. They are adding new content every day, but only catch about Popcornflix is that you have to watch ads and commercials when you watch movies. This is the way of Popcornflix to exist, so you cannot avoid it. Are you wondering how to search on Popcornflix? Well, we will give you some explanations in the following, so keep reading.
See also: How to use Popcornflix to watch free movies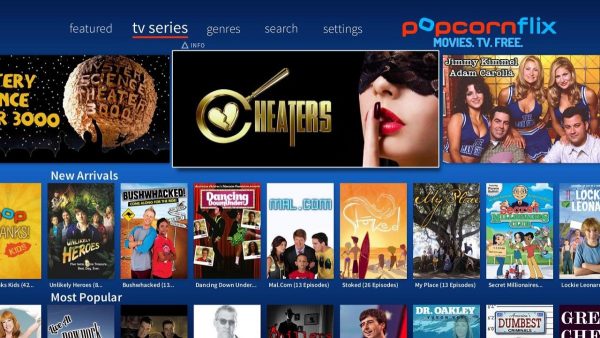 Where to start?
As you know, Popcornflix doesn't require you to make an account to watch content from there. But, if you want to leave any rates or comments, you will have to register. The procedure of doing so is very simple, just open the official site and follow basic directions, just as on any other site.
So, when you have signed up, go again on the Popcornflix official site. When it opens, you will notice the main menu in the upper left corner of the screen. In the center, you will notice two buttons, one named Movies, and the other named Series. Below buttons, you will see the cover pictures of contents that are shown, and you can scroll down to see more of it. In the top right corner of the screen, there is a search bar that you can use to find the movie or TV show that you want to watch.
Use search bar
When you are about to search for a specific movie title or specific TV show, one of the easiest ways is to use a search bar. This is an old and well-known way to research through the contents. As it is very familiar, anyone knows how to use it. So, on the Popcornflix, you should just type in the title and hit the Enter key on your keyboard.
The results will be shown after a couple of moments. The good thing is that you can type in only one word from the title if you don't remember it completely. Also, the buttons that are distinguishing movies from TV shows are placed at the same central part, so you can switch from movies and TV shows and reverse.
Search by categories
If you want to browse over the contents, to see what is offered in the Popcornflix library and pick a movie or TV show you want to watch, here is what you need to do. Click on the main menu in the top left corner, and open the option Directory. Click on it, and you will have a new page loaded. Now, you will have much easier access to a specific genre of movies or TV shows.
In the central part of the screen, two buttons are present, so you can switch from researching movies to researching TV shows at any moment. The contents are divided by genres, so you can go through each of them just by clicking on the specific genre heading.
Most watched
There are some other options to go through when searching, such as New arrivals or Most popular. If you click on the Discover option on the main menu, you will notice a couple of heading, one below the other. Here is an announcement of which new contents are going to be available to watch on the page soon.
Under the heading Most popular you can find the content that people have been watching often. There are some other headings as well, such as Foreign films, Documentaries and similar. When you head to the Discovery heading, it is very easy to find content that you may like and to see which shows are recommended by the others.
---