The Gmail app comes with a set of pretty awesome features so you can adjust them the way you want. As you dive
The Gmail app has pretty nifty features so you can adjust them. As you dive into Settings, you may find various things you can set to match your preferences. You do not have to confirm the action when sending emails, deleting them, etc. However, if you want, you can enable such options. If you do, you'll be asked to confirm the action so it can be performed. This can be useful for those who are sending many emails daily – these features can ensure you don't make moves by mistake. See how to manage action confirmations in the Gmail app.
How to Manage Action Confirmations in the Gmail App
If you often send an email mistake or delete some of the emails in your inbox by mistake, it would be wise to enable action confirmations. When you do that, you will be asked if you want to delete an email, or if you want to send it, etc. Here's how to do that:
Open Gmail on your smartphone or tablet
Next, tap on the hamburger icon (three horizontal lines) in the top-left corner of the app
Scroll down and tap Settings
Next, tap General settings
Again, scroll down, and you will see the "Action confirmation" section
You can enable action confirmation for certain things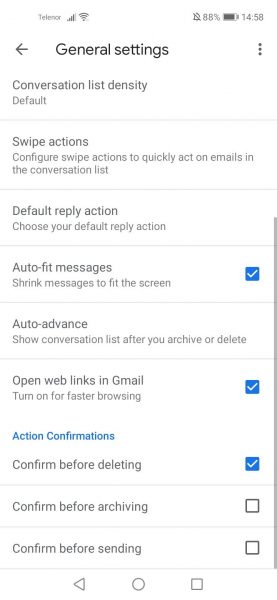 You can choose to confirm before deleting, before archiving, or before sending an email
Tick the ones you want
Once you enable these options, you must confirm the actions so they can be performed. For instance, if you enable "Confirm before deleting" when you decide to delete an email and tap on the trashcan, the email won't be deleted automatically.

You will have to confirm the action first.
---