YouTube is a place where you can find all kinds of videos from DIY videos to workout videos. Unlike Netflix
YouTube is a place where you can find all kinds of videos, from DIY videos to workout videos. Unlike Netflix or any other streaming service, YouTube lets you play videos for free as long as your device is connected to the Internet.
If you run out of data plans or have Internet connection issues while watching a nice video, of course, that's not fun. Like many other people, you may hope there is a method to download videos from YouTube. Therefore, you can watch it offline at any time.
How Much Data Does YouTube Use?
You may realize that your monthly data plan has increased since you started watching YouTube frequently. Do you know how much data YouTube uses? To play a video with 480p, they suggest a bitrate range between 500 – 2000 kbps. This means on average you need around 9.357 MB per minute and 562.5 MB per hour. The better the video quality, the higher the data usage you need. To watch 720p YouTube content per hour, you will need 1.24 GB to 1.86 GB. While for 1080p for one hour, around 2.03 GB to 3. 04 GB will be reduced from your data plan.
How To Download Video From YouTube For Free
Before we jump to the main topic, you should know an important thing. Regarding downloading videos, YouTube has its terms of service. It may also apply to other video websites, like TikTok, Vimeo, DailyMotion, etc. Mostly, they allow you to share or embed the video but not to download it without permission. Foremost, you can share the downloaded video with other platforms or social media. You may receive a warning that, as a consequence or worse, they may block your account.
Now, let's start to download videos from YouTube for free for personal use. I promise this is going to be easy. You only need to do it in 3 simple steps. Here you go.
Step 1 – Download And Install 4K Video Downloader
You need to download and install the 4K Video Downloader app on your computer. It is a free app and is available for Mac (macOS 10.13 and 10.14), Windows (7,8 and 10), and Ubuntu Linux. As its name suggests, the app allows you to download a video in 4K or even up to 8K resolution.

What makes the 4K Video Downloader worth trying is its extraordinary features that you may not find in other video downloaders. Once you install this app on your computer, you will get many useful features in one place.
You can download various kinds of videos, like 3D, 360°, virtual reality, videos with subtitles or just extract the subtitles.
The app lets you download the whole video from your favorite channel simultaneously.
You can even download YouTube private content.
If you find an embedded video from a website and don't have any idea how to get it downloaded, you can rely on the 4K Video Downloader.
It supports a wide range of video websites, i.e. YouTube, TikTok, Facebook, Vimeo, Likee, Flickr, DailyMotion, Twitch, SoundCloud, and Metacafe.
The in-app Proxy setup can bypass geo-restrictions so you can watch blocked videos in your region.
Step 2 – Copy And Paste The URL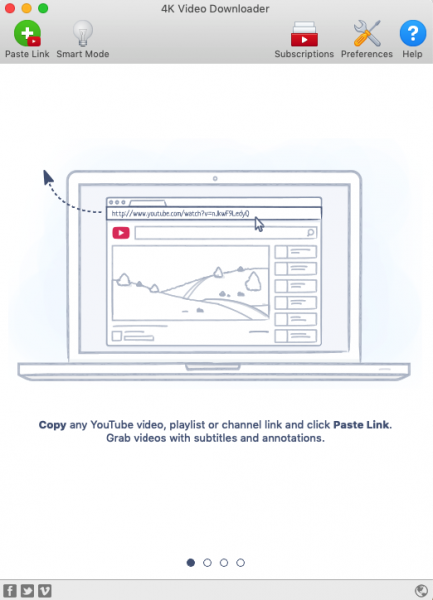 Since you have the 4K Video Downloader installed on your computer, you are now ready to download videos from YouTube. First, launch the app on your computer. Then, find the content you wish to download and copy the link. Next, click the Paste Link button on the 4K Video Downloader app. In the pop-up window, select Download Clip if you only want to download one video.
Step 3 – Download Video From Youtube
After you click the Download Clip button, the 4K Video Downloader app will load the information of the content, and another pop-up window will appear. Select the video format and quality. Once everything is set up the way you want, click the Download button to allow the downloading process to be done.
How To Download A Playlist From YouTube
You may have a bunch of video clips on a playlist you want to download, but downloading them one by one is ineffective. Imagine if there were 20 videos on the playlist. With the 4K Video Downloader,

Choose the format and quality of the video you want, and click the Download button.
You can also get the entire playlist of a specific YouTube channel with one click. To do so, copy the channel link instead of the video link. However, upgrading to the Premium version is required to download the unlimited playlist. There are two options they offer. A single Premium version of 4K Video Downloader costs $15 for 3 computers (one-time payment), or a bundle option for $25. What will you get by spending $25? You will not only get the 4K Video Downloader app but also the 4K YouTube to MP3.
---