Uber is perhaps one of the most successful start-ups worldwide and has won many customers' loyalty worldwide.
Uber is perhaps one of the most successful start-ups worldwide and has won many customers' loyalty worldwide. Dissatisfaction with the services of Uber is hardly believable, but some people may not be satisfied with the service.
Many reasons could have compelled some users to take this action, such as an inconsistent surge in pricing, unexplained elimination of surges, privacy policy, driver mistreatment, and even the infamous controversy regarding investment in Uber. If you want to delete the app, keep reading because we will show you how to do that.
Deleting the app will eliminate your choice to use Uber as a ride service, but your account will remain active on the company's server. You can completely delete your account; it will require you to follow a procedure. You have to submit a request on the official website of Uber or directly from your app.
Using the Uber app
First, you need to open the Uber App on your smartphone and tap the three-line hamburger button or the Collapsed Menu icon on the top-left side of the app's Graphical User Interface (GUI). Secondly, tap on 'Settings' to open up Account Settings. Then scroll down and tap "Privacy Settings," which will take you to the next screen with the "Delete Your Account" option. It can be located at the bottom of the screen in red lettering.
After choosing the option to delete your account, you'll be asked by Uber to specify the reason for deleting your account and perhaps try one last time to stop you from leaving. The app presents the following options; 'Bad experience on a ride,' 'It's too expensive', 'Issue with my account,' 'No longer support the comp,'y,' 'Prefer not to say', and 'other.' You can choose the relevant option ,' tap "Other" to state a different reason. Once you select the reason, tap Continue.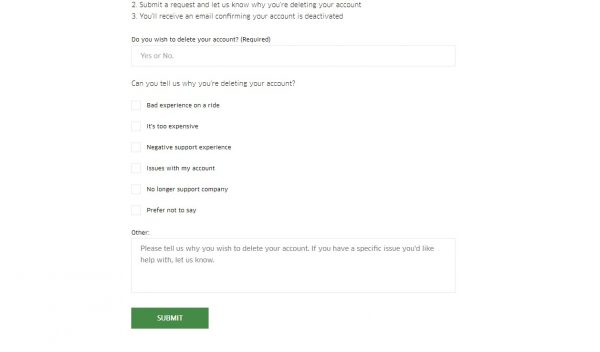 Once you have submitted the request, a prominent "Account Deleted" message will pop up. However, Uber lets you know that they have only deactivated your account, which will take 30 days to delete permanently. During these 30 days, you can reactivate your account just by logging in.
Using the official Uber website
A relatively more straightforward process on the website follows the same 30-day deactivation policy. Uber notifies you about the status of your account through email until confirmation that the account has been deleted. If you're using a PC, open a browser and go to the Uber official website. After logging into your account, find and click the 'Help' option on top of the window. You will see a lot of options that take you to specific directions. Under "Account and Payment Options," click "Change my account settings'. Among the many options, scroll down and select "Delete my Uber account. Click "DELETE MY UBER ACCOUNT" on the following confirmation page again to move on to the last page.
In the end, Uber asks whether you're sure about deleting your account and shares details about your choice. Proceed to fill in both fields as you like and click "SUBMIT" at the bottom of the page. According to Uber's privacy policy, it can still retain certain information.
---