Nowadays, you don't need a sophisticated DSLR camera to shoot a high-quality video. Many vendors have
Nowadays, you don't need a sophisticated DSLR camera to shoot a high-quality video. Many vendors have included a 4K feature on their smartphones. Thus, you can record a full HD with a smartphone with ease. For instance, the older version of iPhone such as iPhone 6s and later allows you to record video in 4K at 30 fps. The 4K video quality is better than 1080p. But, if you want to share it through Instagram, Whatsapp, email, etc you have to resize video. Keep on reading if you want to know why and how to compress 4K to 1080p.
What Is 4K Video And Why Does It Matter?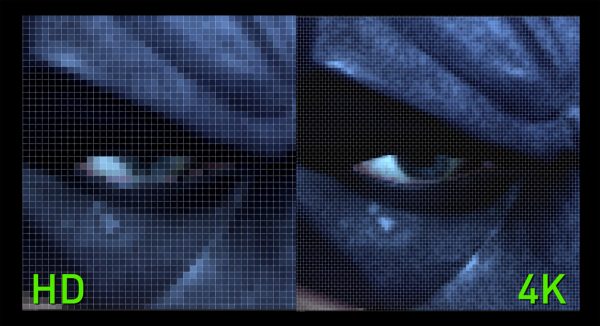 Maybe you are familiar with the term "4K video" also known as Ultra HD (Ultra-High Definition). But, what does it mean?
When you buy a TV or recording a video, its quality is determined by the term called resolution. It's measured by the number of dots or pixels-per-inch. The bigger the resolution, the better and sharper its quality will be. The 4K video has 3,840px2,160p or 8.3 million pixels, while 1080p has 1,920px1080p. So, theoretically, 4K is better than 1080p. When you have a 1080p played on a 4K display it will lose some pixels. Therefore it might reduce its quality and you will see blurry video footage.
You may don't have an Ultra HD TV just yet, but a 4K will become a new resolution standard in the near future. So, recording a video with 4K resolution can be an investment.
The Disadvantages of 4K Video
Do you know that a five-minute 4K video can take around 5GB of storage? If you use iPhone 6s to shoot an Ultra HD video, it will take 350MB for one minute. Therefore, it will fill up 3.5GB of the iPhone's memory if you record the video for 10 minutes. It means you will need 21 GB of memory to keep 1 hour UHD video footage on your device.
The other consequence you have to pay in having a better quality video is the sharing issues. Have you tried to send a video that you have taken using your DSLR camera via email, but it's failed to send it because it is oversized? Also, when you try to share a UHD video to your friend via Whatsapp, it takes too long and ends up with nothing? Yes, the larger size means more time to load. It becomes worse if you have a low-speed Internet connection. This situation can drive you crazy.
Why Do You Have To Resize Video You Want To Share?
I have mentioned before, that an oversized video can run forever. Although you have successfully uploaded the video, the person you sending the video to might not be able to open the file due to its capacity. The large 4K video will also take a long time to export from the video editing software, like Premiere, Final Cut Pro, iMovie, etc.
The good news is, there is a solution to resolve the issues. You can resize video you want to share using 4K video compressor. The software can help you to compress 4K to 1080p. Unfortunately, some of them not only resize video but also reduce its quality. That is not what we want.
The Best 4K Video Compressor
I have tried some of the video converter software and one of my favorites is WinX HD Video Converter Deluxe. It's one of the best 4K video compressors I tried. The software can do more than just resize video you have. Moreover, it can help you to convert the video format.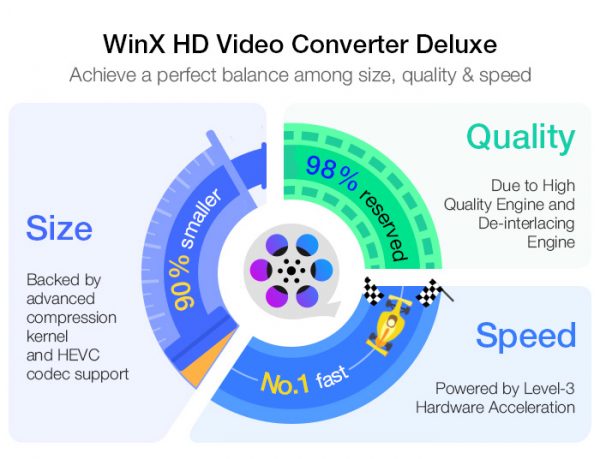 Here are the reasons why you should try WinX HD Video Converter Deluxe to resize video:
Complete support for all large video files, including 4K videos recorded by camcorder, DSLRs, GoPro, DJI, mobile devices, oversized videos downloaded from online or bulky videos got from friends, etc.
Up to 90% file size reduction by removing unwanted parts, lowering video resolution, adjusting codec, frame rate, bit rate, etc.
98% original quality reserved thanks to the High-Quality Engine and De-interlacing engine.
No.1 fast speed powered by Intel/NVIDIA/AMD hardware-accelerated GPUs.
Convert 4K/HD videos to MP4, HEVC, H.264, AVI, MOV, MKV, WMV, iPhone, Android, Xbox, PS4, Apple TV, and 420 profiles
They are having a giveaway campaign, right now. So, if you want to try WinX HD Video Converter Deluxe, this is a perfect time for you. Get a licensed copy of WinX HD Video Converter Deluxe for free to shrink video size by clicking this link.
How To Compress 4K To 1080P
The fact it is easy to use is another thing I love from WinX HD Video Converter Deluxe. You can compress 4K to 1080p in minutes.
Before we start: 
Click this link to get a licensed copy of WinX HD Video Converter Deluxe for free for Windows. If you are a Mac user, click the giveaway link here.
After the software has been installed on your computer, launch it and enter the licensed copy.
How To Compress 4K To 1080p: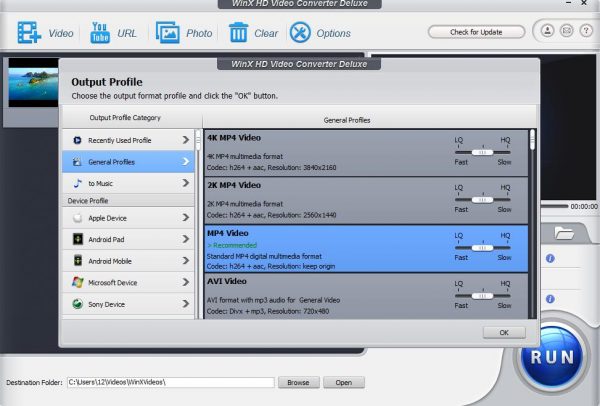 Now, you are ready to compress 4K to 1080p. You only need 3 simple steps to resize video. First, click the Video option on the upper left bar to input the video you want to resize. Then, choose the video format, and click the "Run" button. That's it.
Conclusion:
You don't have to worry about recording the UHD video anymore as long as you have a Winx HD Video Converter Deluxe to compress 4K to 1080p. It's an all-in-one 4K video compressor everyone should have on PC. You can also use it to edit the video, create a slide show video from photos and pictures, convert the video format, etc. Moreover, they are having a giveaway for their users. Click this link and you will get a licensed copy for free.
---