According to HubSpot, our brains typically process images or visuals 60,000X faster than text. So, using numerous
According to HubSpot, our brains typically process images or visuals 60,000X faster than text. So, using numerous high-quality images or videos for various purposes is the need of the hour, especially if you want to grab someone's attention by using them in your presentations.
However, finding the strong, high-quality, and right images or videos for your specific needs can be challenging as most of them come with an annoying watermark.
Many photographers choose to use a watermark on their photos or videos for a variety of reasons, some of which are as follows:
This assures that their hard work will not be reproduced/stolen
This helps viewers quickly identify a particular brand or image
Watermarks help them claim ownership of the asset
But what if you like a catchy image or video but can't use it because of the annoying watermarks, and you also don't want to spend dollars to get a license from the creator?
Well, this is where HitPaw Watermark Remover comes into play and helps you get rid of unnecessary distractions quickly and effortlessly without ruining the quality of your content.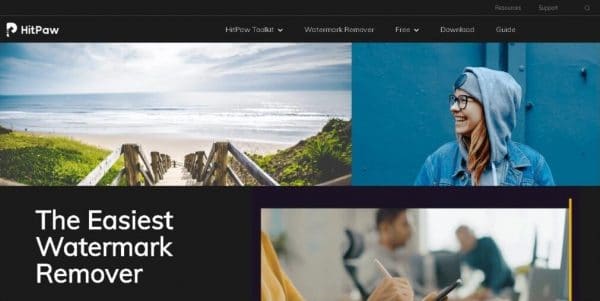 What is HitPaw Watermark Remover?
HitPaw Watermark Remover is a newly launched software that is rapidly gaining popularity due to its amazing features and the ability to remove the most complex watermarks in just a few clicks.
It is a compelling yet easy-to-use software crafted with many interestingly simple features and functions that allow individuals to precisely remove logos, watermarks, subtitles, text overlays, dates and other unwanted elements from the videos, photos, and illustrations.
For the convenience of users, HitPaw Watermark Remover supports all video and image formats. It is specially designed for those who want to get rid of ugly watermarks without any learning curves quickly.
What Can HitPaw Watermark Remover Help You Fix?
The HitPaw watermark remover was launched in the market in November 2020. It has gained a huge reputation among the users in a concise period of time.
It is an amazing and evolving software equipped with three removal methods and various selection tools that can be used to remove any watermarks from a video or image at once or one by one.
This watermark remover is very lightweight and easy to use. Thanks to its beginners-friendly and easy-to-understand interface, it helps you do all this work in seconds and with maximum accuracy.
Here are some of the most amazing features of HitPaw Watermark Remover:
Three Removing Modes to Remove Photo Watermark
The first feature of HitPaw Watermark Remover that allows the users to remove photo watermarks with extreme accuracy is its 3 different removal modes.
If you want to remove the watermark of one color, then the option of "Smoot Filling" and "Edge Filling" is the best choice, and if you want to remove the watermark of different color, then the "Texture Repair" option is excellent.
Each mode works differently and has its own advantages, and you can choose one according to your needs.
Pretty Simple Interface
When it comes to easily and quickly remove watermarks or other offensive material from photos or videos, there's only one contender: HitPaw watermark remover.
Thanks to its easy-to-use and pretty simple interface, removing watermarks from any visual content is no longer a difficult task, even for a beginner.
It helps you save your precious time, and you can conveniently import an image or video using its drag and drop feature and then remove any irritating part using some of its simple selection and removing tools.
3 Selection Options
Whether you want to use the images in a presentation or for personal use, if you want to seize someone's attention, you need to make sure that they are free of any annoying and disturbing watermarks.
But most watermark remover software here fails to successfully and precisely remove various elements from your visual content that contain multiple objects of different shapes.
However, due to the state-of-the-art technology that uses HitPaw Watermark Remover, removing any item, date stamp, watermark and logo is no longer a tedious and difficult process.
It provides you with 3 object selection tools, including Pen, Triangle, and Square, that are more than enough to make your image or video clean and eye-catching.
Support Several Formats & Languages
Some may want to remove the watermark from JPG or PNG images while some from MP4 or AVI videos, so HitPaw has always strived to make its software available and accessible to all types of users.
To save their customers from any trouble, their watermark remover is also available in 11 languages along with many photo and video formats. This ensures that any beginner or professional can easily get rid of their worries by using it.
Multiple Shortcut Keys
Using multiple shortcut keys during work is a great and easy way to navigate and execute commands in computer software.
This watermark remover lets you perform various tasks with its shortcut keys to save time and make your tasks easier.
Here are some mostly used and essential shortcut keys in HitPaw Watermark Remover.
Ctrl & Z = Undo
Ctrl & + = Zoom in
Ctrl & = Zoom out
Spacebar = Move
Undo / Redo & Zoom-in / Zoom-out
It is human nature to make many common mistakes, usually due to a lack of information about a particular item.
Here undo and Redo are considered the two most important features of any software that help you reverse an error or restoring a process.
Not only does this watermark remover help you do this easily, but you can also cut the watermark more precisely using its zoom-in and zoom-out option.
Remove Watermark From Any Part of Video
If you have a video that includes multiple watermarks throughout the duration, then you can remove the watermark from any part of the video using HitPaw Watermark Remover.
You can also select multiple items at any part of the video at once and remove them with a single click. This watermark remover lets you preview the current video easily without waiting for the video to be exported. This can help you make more changes in real-time.
What You Need If You Want to Use HitPaw Watermark Remover?
Now, after reading the above incredible features of HitPaw Watermark Remover, you will definitely want to download and install it to remove unwanted and ugly stuff from your videos or photos. But before you do that or download the software, make sure your system meets the following system requirements.
Although it is a very lightweight software and can easily run on a low-end PC without any leg or issue, checking them will ensure that you do not face any problem during installation.
Furthermore, it is available for both Windows and Mac devices, but there is no version available for Linux users. In this situation, you can also use their online watermark remover, which is 100% free and provides far more features, and also lets you add custom watermarks.
System Requirements For Windows:
Supporting Windows: 10/ 8/ 7 (64 bits)
Hard Disk Space: Around 100 MB
RAM: 512 MB or above
Processor: Intel Dual Core or higher
Resolution: 768px, 1080px, 2K, 4K, 5K.
System Requirements For Mac:
Operating System: OS X 10.13 or later
Disk Space: Around 200 MB
RAM: 2 GB or above.
Processor: Intel Core 2 Duo or later
How to Use HitPaw Watermark Remover?
HitPaw Watermark Remover is very straightforward to use, and you don't need to be an expert to operate it. All of this is made possible by its clean and easy-to-use interface, which offers only minimal and essential options.
But even then, the magic that it makes by removing any watermark or unwanted objects from photos or videos is undoubtedly amazing.
Now, if the system requirements meet the above criteria, then you can easily download and install HitPaw Watermark Remover by following these 3 steps below and can start removing the annoying watermarks from various videos and images.
Step 1:
Visit the official webpage of HitPaw Watermark Remover to download and install the latest version of the software. Here you can choose between PC or Mac and decide to buy or use the free trial version. Click the download button.
Step 2:
After downloading the software, go to the location where you saved it and launch it. Install the software following its instructions, and from here, you can also choose the installation path and change the language by clicking on "Install Settings".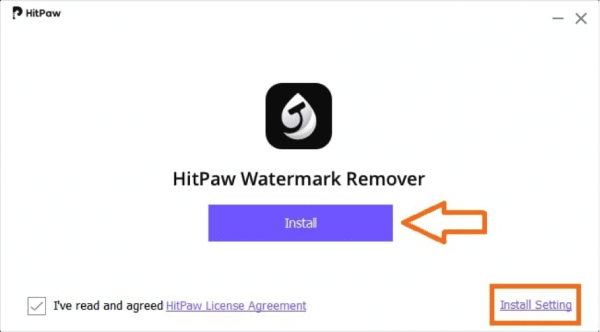 Step 3:
Finally, click on "Start", and a pretty straightforward interface will open in front of you. Now follow the guide below to do the actual work of removing the watermark.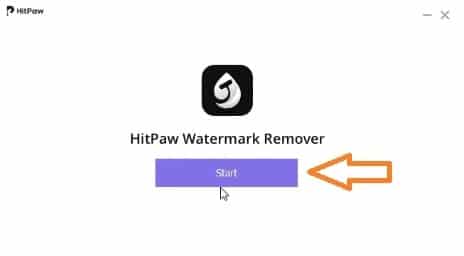 How to Remove Watermark from Video?
Follow the 2 steps below to remove the watermark from the video.
Step 1:
Open the HitPaw watermark remover and after selecting the "Remove Video Watermark" option, click on the upload option or drag and drop the video.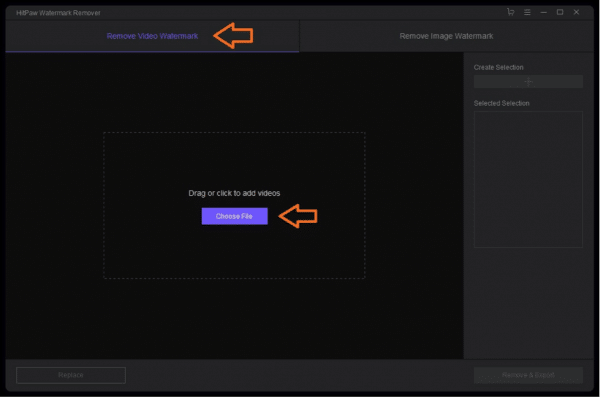 Step 2:
Select the watermark and the duration of the area from which you want to remove it. Then click the "Remove & Export" button. The new video will now be saved to your chosen location without a watermark.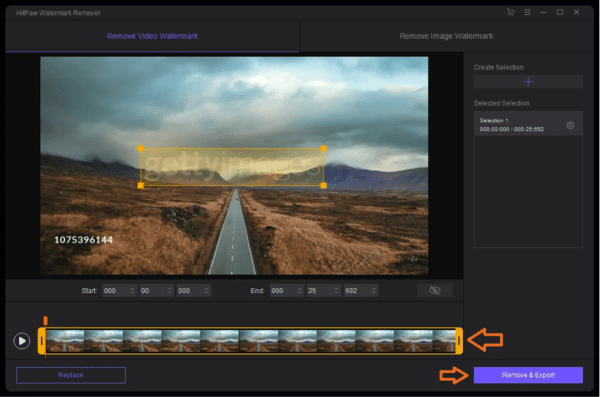 How to Remove Watermark from Image
Now to remove the watermark from the image, you need to check the following few steps.
Step 1:
Click on the "Remove Image Watermark" option and import the image you want to remove the watermark.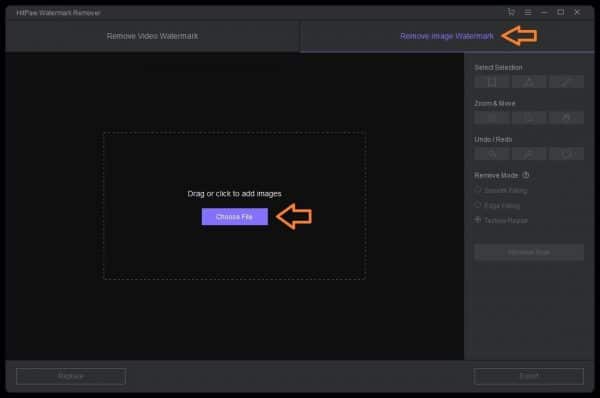 Step 2:
After uploading the image, you'll find some options, such as selecting and removing modes that allow you to remove the watermark to suit your needs. Select the watermark area with either option according to the type of watermark and click on a "Remove Now" button.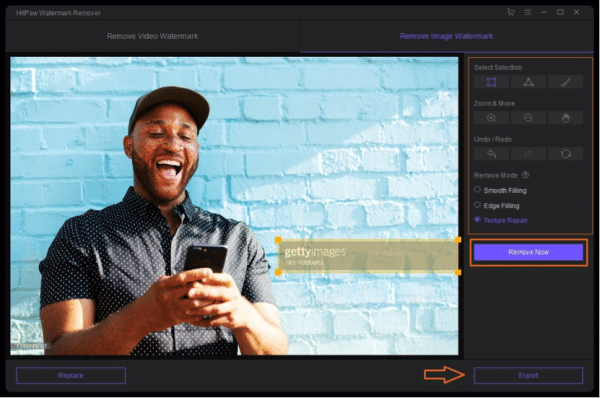 Boom !!!
You can see how easily and within a few clicks that it has removed the watermark from the image and video with maximum accuracy.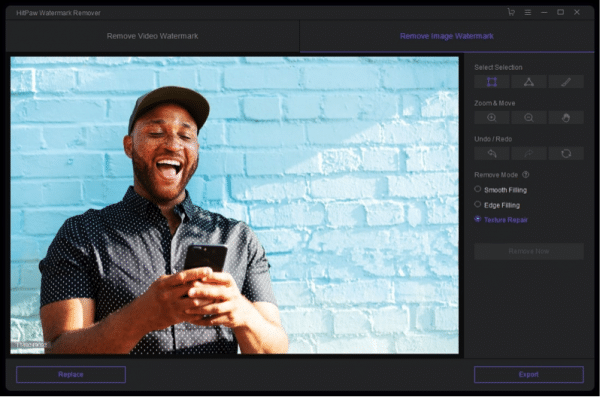 How Much Does HitPaw Watermark Remover Cost?
By now, you know all the features that HitPaw Watermark Remover provides and know how to remove various elements from photos or videos.
So despite all these incredible features and the simplicity of the software, the cost is kept very low, and it is one of the cheapest and budget-friendly watermark remover on the market.
There are 3 plans available for both Windows and Mac, with only one PC or Mac allowed. The cost range is from $4.99 to $9.99 for Windows users and $8.99 to $19.99 for Mac users, depending on which plan you choose.
Furthermore, annual plans are cheaper than other ones. Compared to other software that provides the same services and features, the HitPaw Watermark Remover also has a lower cost. One such example is the Apowersoft Watermark Remover, which costs around $29 a year.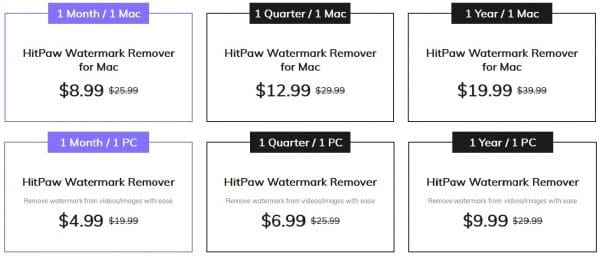 Here are all the plans:
For Windows:
1 Month / 1 PC $4.99
1 Quarter / 1 PC $6.99
1 Year / 1 PC$9.99
For Mac:
1 Month / 1 PC$8.99
1 Quarter / 1 PC$12.99
1 Year / 1 PC$19.99
Is HitPaw Watermark Remover Worth Buying?
Because of the low cost of HitPaw Watermark Remover and its ability to solve problems quickly and efficiently, it is safe to say that it is worth buying or value for the money.
To make it more clear whether you should buy it or not, we've outlined some other key points so that at the end of this article you can finally be fully prepared to make a profitable decision.
High Customer Reviews Rating
After purchasing HitPaw Watermark Remover, almost all users have expressed satisfaction and highly rated the software with their kind words. Based on 24 reviews, the software received an average rating of 4.9, which is considered very good.
Here are some customers feedbacks:
By Matevos Avedis:
"I download some photos from Shutterstock, but there are watermarks everywhere. I tried many tools to check the effect and HitPaw is one of the best tools. Thanks. "
By Lin qianyi:
"Everything you need to remove damn watermark from video and image. This watermark remover is awesomely included!!! "
By Ruben Lucine:
"Hitpaw is the cheapest software I have ever tried and I think it gives a not bad effect, thanks. "
By Laier:
"I can use it to clear any unwanted objects such as text and logo with a few clicks. Wow! "
By Ethan:
"It helps me delete watermarks from videos or photos. Very good. "
Fully Secure
HitPaw is a big name in the market that has provided software solutions for many years and already has over 7314K happy customers in 160 countries. HitPaw Watermark Remover is 100% legit software that does not contain any viruses, advertisements or malware and is completely safe to use.
Their team of engineers is working day and night to provide a satisfactory beginners friendly watermark remover and bring it up to industry standards, which is why they also provide a 256-bit SSL certificate guarantee. Furthermore, all the reviews on Google about this software are good, and no bad report has been found.
Fast Customer Support
You may encounter a problem at any time while using or purchasing the software. Fast and reliable customer support from an experienced team of experts can help you get out of trouble right away.
We can see that many watermark remover software claims to provide fast customer support. Still, when we send them an email or call them, we usually receive a reply after several hours or even days, which is especially very annoying for those in a hurry.
However, in the case of HitPaw Watermark Remover, you receive speedy customer support. Their technical support team is extremely responsible, ready to solve any of your queries promptly.
30 Days Money Back Guarantee
Customer satisfaction is HitPaw's top priority, and for them, their customer is everything. That's why if, after 30 days of using the software, you feel that it doesn't live up to your expectations, you can get your money back by taking advantage of its 30-day money-back guarantee feature.
You can contact the support team or cancel the subscription yourself through the e-MyCommerce account. But before you do anything, make sure you've read all the terms and policies of the refund.
Free Trial to Explore the Software
A free trial is a great way to explore software in detail before deciding to purchase it. HitPaw Watermark Remover is available for a free trial with all premium features, but you will see HitPaw's watermark on exported files.
So, before purchasing the software, HitPaw has provided the facility that you can check every feature of the software for free to avoid any future complications.
Free Resources to Make You an Expert
If you are a complete beginner and do not know much about removing watermarks, then you also don't need to worry as there are many tips and tutorial videos, and articles available on their official website and social media accounts that are more than enough to make you a software expert.
There are all kinds of guides available. Whether you want to remove watermarks from Shutterstock images or TikTok or Bandicam screen recording videos, you can easily do so by following their step-by-step guide.
Conclusion
At a glance, HitPaw Watermark Remover is a great choice for anyone looking for simple and straightforward software to remove multiple elements from their videos or photos. Features like "Selection", "Zoom & Move", "Undo / Redo", and "Remove Modes" are standard, making this software a highly formidable option in the market. Plus, it's a cost-effective watermark remover and won't put a burden on your pocket.
---