MacBook Air is more than just a laptop. It's a fashion statement in terms of tech that combines high technology
MacBook Air is more than just a laptop. It's a fashion statement in terms of tech that combines high technology and beautiful design. Like Steve Jobs once said, "It is in Apple's DNA that technology alone is not enough." Apple has successfully blended technology and great design as you can see in all Apple products including MacBook Air. As a stylish laptop, it also needs a fashionable sleeve case. If you are looking for the best one, a premium leather sleeve case for MacBook Air by Harber London can be a perfect choice.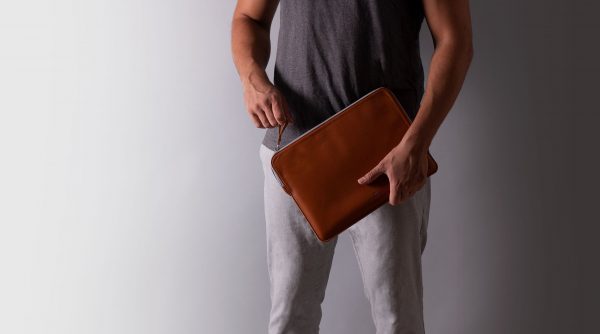 Stylish Leather Sleeve For MacBook Air By Harber London
About Harber London
Harber London is a family-run brand based in London with a genuine passion for handmade leather goods. The company was established in early 2012. They love to keep their design as simple as possible, high quality, and functional. It sounds a bit like Apple's design philosophy, right? That's why a Harbor London leather sleeve can be a perfect mate for your MacBook Air.
The Design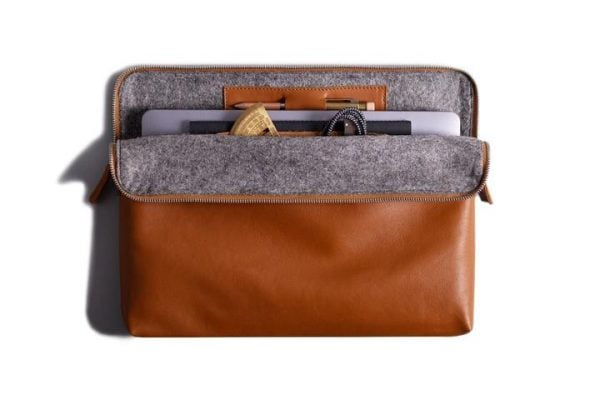 When you are looking for a leather sleeve for your MacBook Air, the first thing you want to see is its design. Does it fit your style and needs? What about its appearance and every detail they give to the sleeve? The great design always pays attention to details. That is what Harber London tries to offer simple design without leaving out the details. You can find this design principle in all of their products.
Harber London has various types of MacBook sleeves types. And all of them are designed with the same philosophy which is to be unique, simple, clean, high quality, and functional. All of them are sleek and stylish. It will give you a classy look when you carry any of them. The products are designed in the UK and preciously handcrafted in Spain by expert craftsmen.
The Material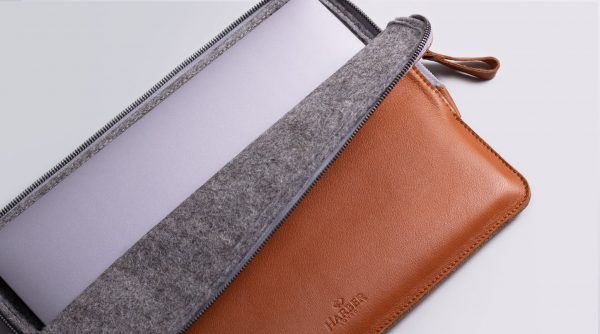 Buying a sleeve case for your MacBook Air is an investment. Therefore, the material is the next thing you need to consider when looking for a laptop sleeve. A product made of high-quality material usually will last for a long time.
You may find many similar sleeve cases more affordable than Harber London's in the market. Some of them even have a price of around $20 or lower. But, you can check the material used. What material does it use? Do they use real leather or synthetic?
What about Harber London? They use 100% real leather in all products, including one of their most popular products, Leather Sleeve for MacBook Air S7. The front and back of the Leather Sleeve made of 100% real leather. They also use the other premium materials, such as 100% Natural Wool Felt, Soft Microfiber, German Microfiber, and 100% Cotton Twill.
100% Real Leather
They use Full-Grain Leather in their products. These are the most premium parts of the leather and will age gracefully over time, forming a unique patina that adds character and personality to every piece.
100% Natural Wool Felt
The material is a renewable and eco-friendly that provides traditional care and protection. It's a highly saturated, non-woven material that cannot be pulled apart and that has excellent anti-static and moisture resistant properties.
The other materials
Some of their products use Soft Microfiber, German Microfiber, and 100% Cotton Twill. They also use YKK water-resistant zippers on some items to keep your electronics dry when roaming around.
Where to buy?
You can find Harber London products on Amazon, Etsy, or visiting www.harberlondon.com to get a 10% discount. The price of tech accessories like a leather sleeve for MacBook Air and MacBook Pro is starting at $59.00. Even though they are based in the UK, they ship worldwide.
---