Having the ability to talk in different languages is great, but to learn it isn't always that fun. There
Having the ability to talk in different languages is great, but to learn it isn't always that fun. There are many language-learning apps and books that offer different methods which are claimed to be the easiest. Some of the languages are quite tough. Let's say French which according to many people is so difficult to learn because of the way its words are pronounced.
One of my favorite language apps is Duolingo. This app offers the fun way to learn a language from the very beginning level to the advanced one. Moreover, the methods they give are complete. You can gain not only your written and listening ability when learning a certain language. They also encourage you to speak.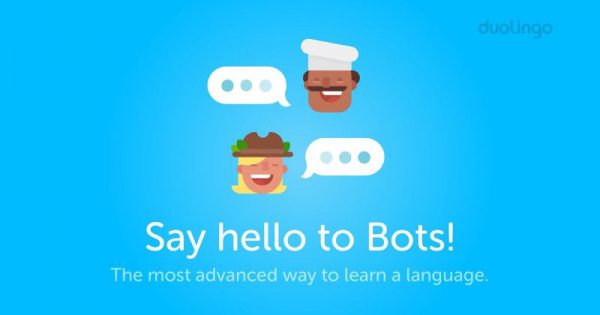 The chatbots era
It is a chatbot era. Many popular messaging services have used chatbots to help them interacting and answering the questions of their customers. For example, HealthTap and H&M chat bots.  Let's take H&M chat bot as an example. Through the H&M chat bot, you can ask about the suitable outfit. Isn't it interesting?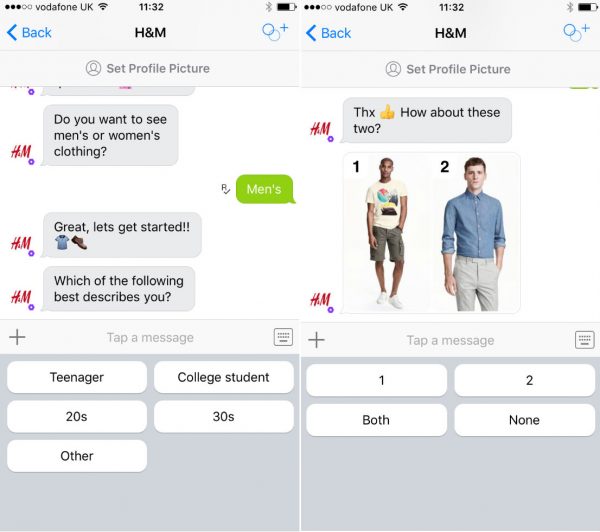 How can chatbot be useful in learning a language?
Let's say you have learned a certain language well -theoretically at least. It is very important to practice it verbally. If you want to master a certain language, you have to test yourself through conversation. Sometimes, people are good in certain part only but not really good in the other one. So, I think a good learning app should provide their users the  tools and methods to learn it completely. The tools have to meet the 3 aspects: written, listening and speaking. It seems that Duolingo wants to be the first one to adopt the chatbot technology as one of their features.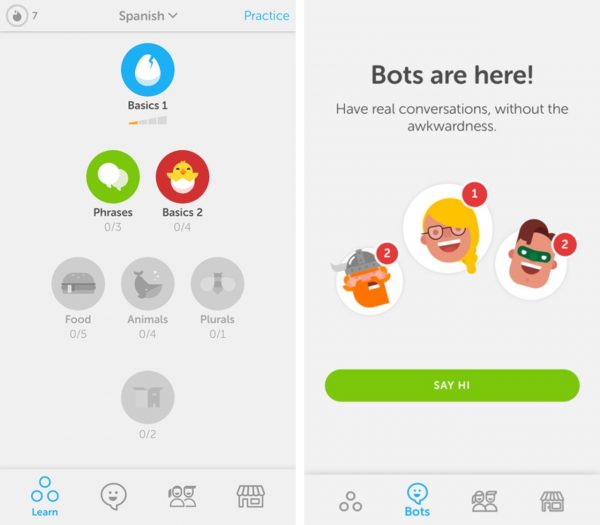 Based on the needs of their users in practicing the conversation, Duolingo released their chatbot recently. When I heard about it, I was so excited and couldn't wait to try it. So far, it is somehow such a good idea because it can take you to the next level on learning a language. However, it isn't really effective for practicing the conversation. It doesn't involve the three aspects because the "spoken" part is missing.
At this time, you are  allowed to response the chatbot through text message only, and improve the listening skill when the chatbot talks to you. However, the chatbot is still useful as the first step in building the confident of their users to practice conversation. In fact, about three-quarters of the people we try it with are very embarrassed to speak in a foreign language with another person, as it's said by Luis von Ahn  the company's co-founder and chief executive. The solution for that problem is to interact with the computer because it won't judge or mock you.
It will be better if they improve the chatbot into two-way interaction. Thus, users can have two-way communication as if they are chatting with the real person. Of course, having a conversation with the real person is the best way. The chatbot is just the first step and very helpful in encouraging you. However, I must admit I enjoy having a conversation with Duolingo chatbot. Unfortunately, the chatbot feature on Duolingo is available for iOS platform only and can be used to practice conversations in Spanish, German, and French. Are you interested in trying it?
See also: Behind "No Headphone Jack" Controversy – Innovation Or A Necessity?
---