The brand OnePlus has always redefined the world of smartphones. They managed to bring in premium hardware specifications
The brand OnePlus has always redefined the world of smartphones. They managed to bring in premium hardware specifications and design to budget-friendly pricing every year. The newly launched OnePlus 6 is no different as the phone has the notoriously popular top notch but is impressive in terms of specifications and is very affordable when compared to models from Samsung or Apple.
After you have purchased the phone, the only thing that is left is to protect it using the best OnePlus 6 cases. Ranging from rugged, rubberized models to slim transparent covers, there are so many different types of cases to choose from. Most of them are extremely cheap and you don't have to think twice to buy maybe a pair so that you could swap them based on your usage scenario. Here is a great collection of cases for your OnePlus 6 smartphone.
See also: Best Waterproof Android Phones
Best OnePlus 6 Cases
Colorful and rugged case
TUDIA Slim-Fit Heavy Duty Case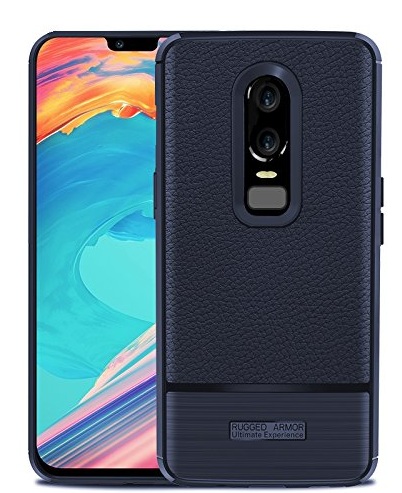 The first thing that will catch your eye with the TUDIA slim-fit heavy duty case is its vibrant color choices. The mint colored variant will be the most catchy choice of them all while there's also a black, grey and a rose gold for people who are inspired by Apple's choice of naming colors. It is made using a dual layer design and the case is primarily made of polycarbonate material which is extremely rugged, capable of protecting your phone from an accidental fall.
The best OnePlus 6 cases are designed for the phone and its easy to snap on which will allow you to latch it to your phone instantly. The raised edges help protect the display from getting scratched while the interior is filled with TPU material which has shock absorption capabilities. Combine all these with a range of colors and the precision cut design, you easily get the best smartphone case capable of not only protecting your phone but also allowing you to easily access the volume, power buttons.
What's great about this case?
The choice of colors are plenty including a rose gold and mint variant
It's extremely rugged yet soft to hold. The raised edges will help protect your screen and the corners of the phone which is where most displays are sensitive
See it on Amazon
Classy black case to compliment your phone
Spigen Rugged Armor Case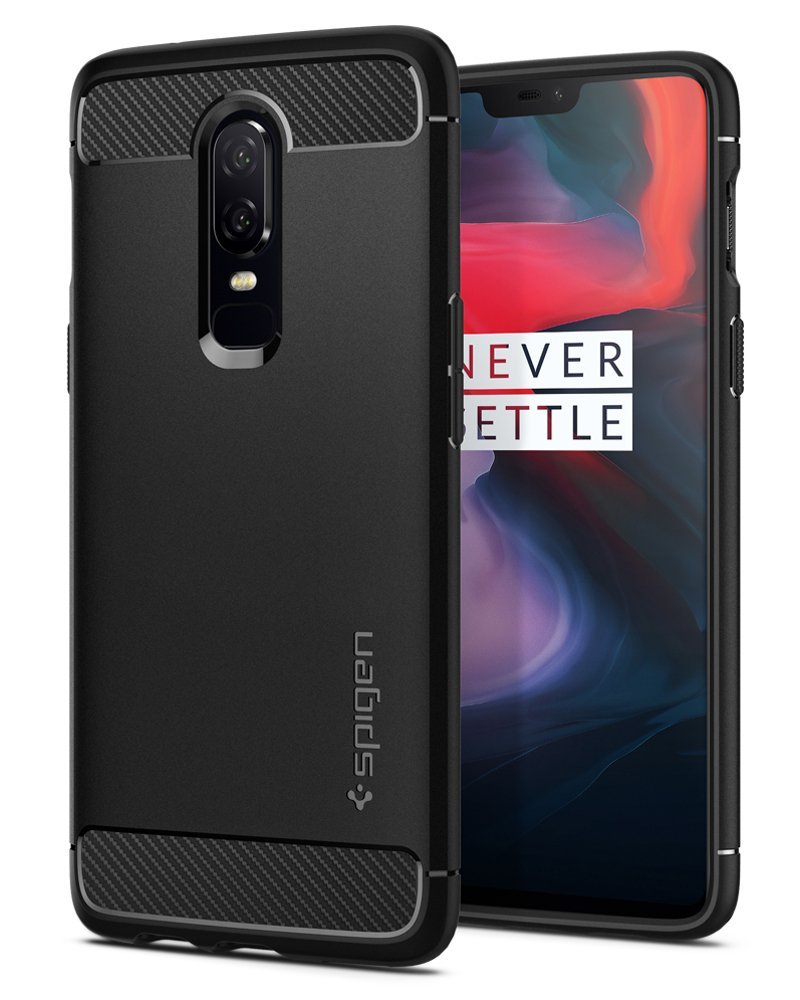 If you love black and classy finish, the Spigen rugged armor case is the perfect addition to your OnePlus 6 smartphone. Every year, the company doesn't fail to impress its audience with a slim design and the black colored variants are often the most popular. For buyers who like to retain the originality of their phone while retaining its originality, this is the kind of case to go for.
The Spigen product is all black with beautifully carved caveats at the top and bottom. They improve grip when you hold to pick up the phone from a desk or hold the corner area to lift it up. While it might look like style quotient is the biggest focus of the designers, they have ensured that it protects as well. The rugged armor case is made with flexible TPU material which is capable of shock absorption if you drop your phone and it also has a raised lip in the front to protect your phone's display. The tactile buttons are a welcome addition for anyone who loves to feel the button press, be it the volume or the power button. The case is specifically designed for the 2019 model and will provide a perfect fit.
What's great about this case?
The premium black finish is perfectly handled in this case that makes your phone look more stylish
The spider web design at the top and bottom provides improved grip when you hold the device at awkward angles
See it on Amazon
Best Cheap OnePlus 6 cases with a leather back
Carbon Fiber Luxury Case for OnePlus 6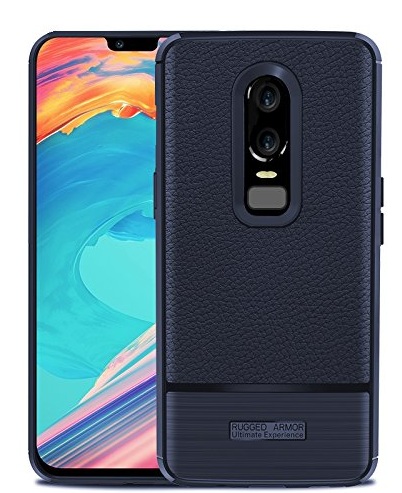 A leatherback on any smartphone case will feel good to hold when using the phone to watch movies, browsing or making a call. It improves grip, has a textured touch to it and carbon fiber luxury case uses ample amount of the material. A unique aspect of this product is that it is very easy to attach or remove it. You can even choose to wipe your case clean every day or weekly once so as to keep it look sparkling clean throughout its lifetime.
The versatile cover is available in multiple color choices including black, blue, brown, grey and red. There are two different natural materials used to make the case which provide a real-life feel to it and it doesn't produce any odor or stick to your hands during extended usage. It has been tested to be safe to use against the human skin without any side effects. All these aspects make it one of the most unconventional cases available for the OnePlus 6.
What's great about this case?
The case is made using dual natural material which feels soft and good to hold in your hands while providing improved grip
It is available in multiple colors and is very easy to attach or remove.
You can clean the case using soap to make it look every day and the material will not get damaged
See it on Amazon
Transparent case with wrist strap
Ringke Fusion Crystal Clear PC Back Case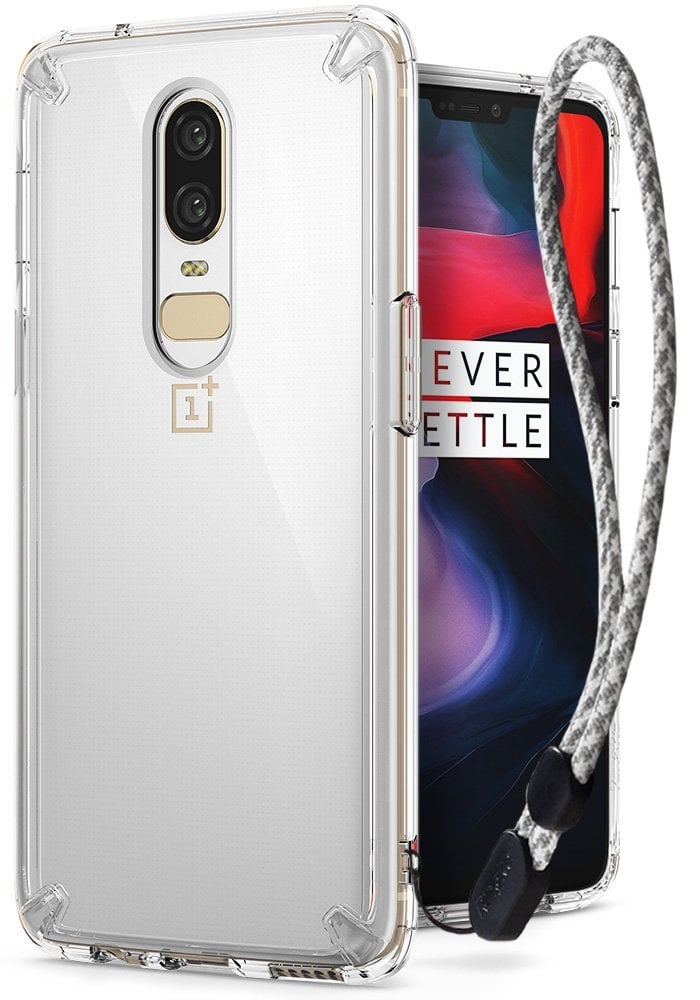 The Ringke Fusion case has lots of great features that it will ideally match the requirement of most users. People buy the OnePlus 6 phone for its slim and stylish design. They might obviously want to show it off and this transparent case will allow you to do so while keeping it safe from scratches or from an unexpected fall. The case has received military-grade MIL-STD 810G certification and can protect your phone against a massive four feet drop, not just once but up to 26 times. We hope you wouldn't want to drop test it so many times but it can withstand all that hard impact.
The best OnePlus 6 cases when it comes to offering ultimate protection are made using polycarbonate back and thermoplastic bumpers. They work in unison to protect the corners and the display. A minimalistic design ensures it doesn't add any unwanted bulk to the phone. Besides, the transparent back also exposes the design of the phone. A lanyard hole allows you to add a wrist strap or even a large neck strap to the cover so that you can permanently forget about slippery hands.
What's great about this case?
The case is unbelievably rugged and has been certified to have military grade MIL-STD810G durability against a four feet fall
The spot to attach a wrist strap is handy so that you wouldn't forget your phone somewhere or drop it
See it on Amazon
Textured rubber case
Rnicy Slim Anti-Fingerprint Rubber Case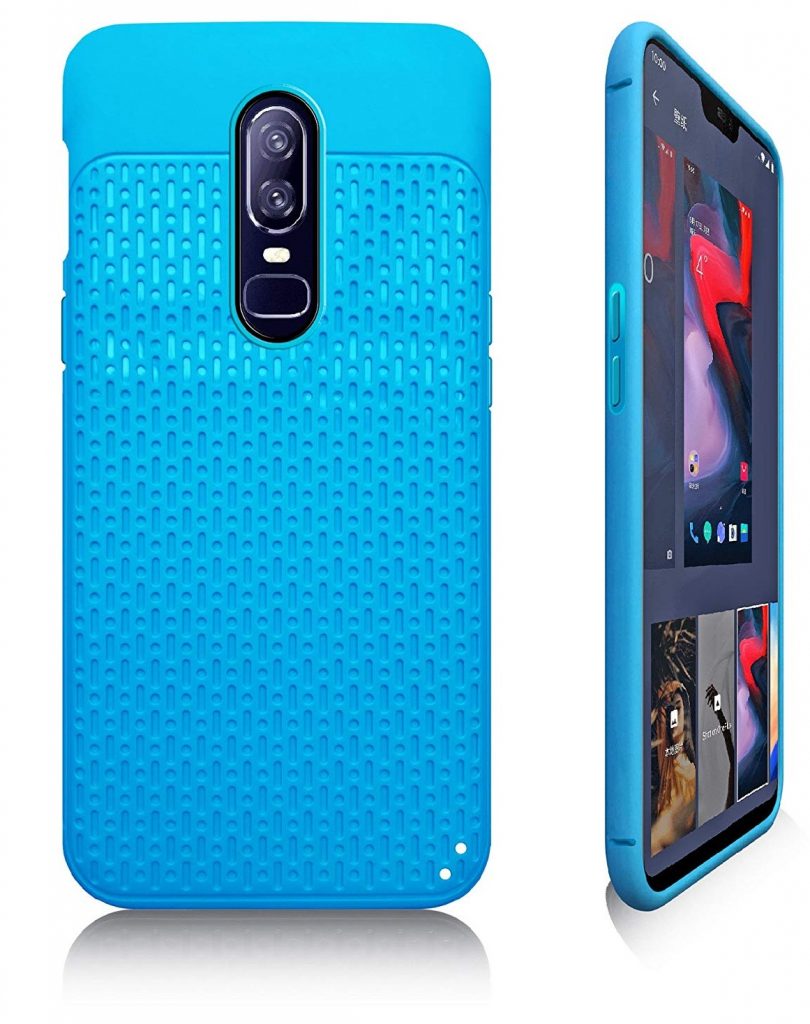 Out of the many best OnePlus 6 cases available online, the Rnicy slim anti-fingerprint rubber case is very unique in terms of design and the way it changes your phone's design. The highlight of the case is that it sports a rubber back which has lots of air pores to provide breathing room for the device to operate without heating up. If you play a lot of games and watch movies on your device, this improves your hand grip and also dissipates heat properly besides protecting it.
The special cube textures on the back ensure your OnePlus 6 phone is perfectly protected even when it unexpectedly falls down. And, there is also a long list of features as suggested by the manufacturer including anti-shockproof, anti-fouling and anti-fingerprint. The case is made using high-quality TPU material which retains its shape for years to come and doesn't show any deformation issues. The case is made for OnePlus 6 offering a perfect fit and easy access to the buttons.
What's great about this case?
The rubber texture is unique and provides your phone a brand new look
It prevents it from accumulating fingerprints, protects the display and also helps dissipate heat during prolonged usage
See it on Amazon
Best OnePlus 6 cases with pull ring make it easy to hold your phone
Topnow Case with Pull Ring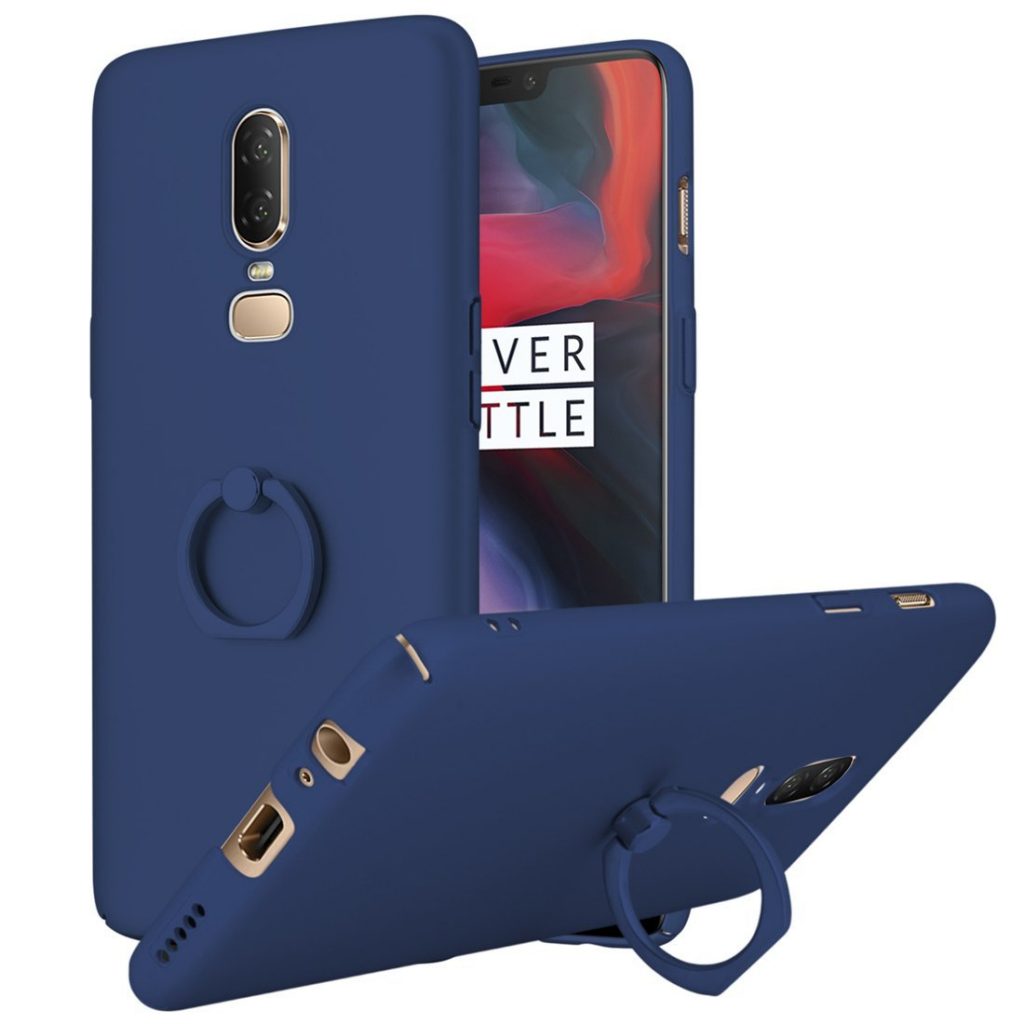 The Topnow case has a luxurious finish and a soft rubber material providing an improved level of grip. Phones have become slim and compact these days. The case provides a solid pull ring on the back which can be rotated in 360 degrees to find a convenient position. You can slip your finger in and keep the phone in position for a long time without any wrist strain. The material is made using ultra-thin plastic that ensures no extra bulk is added to your smartphone.
In order to preserve the originality of the phone and to provide easy access, there are specific cuts made to access the USB Type C port, the volume up and down buttons along with the power button. Being able to touch the real buttons instead of having a rubber grip on top of them ensures an authentic experience with your OnePlus 6 device. The case protects your device against shock, shatter and prevents any accidental scratches on your display. It is an all-in-one package from Topnow with a cheap price tag.
What's great about this case?
The pull ring is a standout feature making it easy to hold the phone and can be rotated in a position of your choice
The rubberized back grip feels good to touch and completely covers the rear side protecting it against scratches
See it on Amazon
Bottomline
The best OnePlus 6 cases are the ones that are capable of protecting your phone against fall and scratches. Every case discussed in this article is capable of providing solid protection but each one of them has some unique features such as a pull ring, transparent design or military grade shockproof certification. With cases being very cheap and having assured warranty, you can buy more than one to find your best fit and keep spare cases for a specific usage scenario.
---