Pcbezz is supported by its audience. We may get a commission from retail offers
Car GPS is one of the best technological upgrades of modern times. It is a small but very handy unit that can
Table of Content
Car GPS is one of the best technological upgrades of modern times. It is a small but very handy unit that can have a huge effect on driving. Owning a car GPS ensures that you are less likely to take a wrong turn or end up in a lane with very stagnant traffic. Chances of you ever going late again is also slim, because a good GPS can monitor and come up with the shortest, fastest route through any city. Here are some of the best car GPS systems that you can equip your car with.
See also: Best DVD players
Best Car GPS
Best GPS System Loaded with Alexa
Garmin Drive Smart 65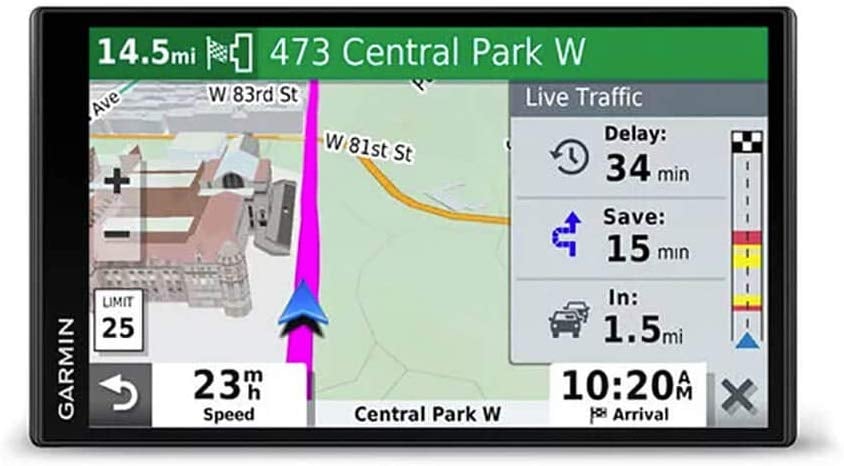 If you are looking for a premium solution to your road worries, you can opt for a car GPS system and the Garmin Drive Smart 65 is one of the best out there. This is a highly reliable tool to get you through traffic daily. The GPS system boasts of a giant screen spanning over 6.95″ from edge-to-edge. The giant screen ensures that you do not have to squint to understand what your maps are showing. You can confidently drive while glancing over at the giant screen from time to time.
The best thing about the Garmin Drive Smart 65 is that it comes loaded with Alexa. This means that you do not even have to use your hands to operate this very intelligent device. It can recognize your voice and easily carry out verbal commands. Thus you can play any music from several online stores, create and keep track of lists, play interactive games, and do much more. The Garmin Drive Smart 65 device is also loaded with a Trip Planner tool that helps you map out the entire route including hotels to stay, restaurants to dine-in and places to visit. The days of hitting a button for a particular function are over. All you need is an open Garmin app on your smartphone and you are good to go on the best road trip of your life.
Who should buy this?
For people who like to hit the road often, this is an inexpensive tool to have as it will give you constant real-time updates about traffic, weather and such details about any place.
For those who live in a busy city and are tired of all the traffic jams, this tool is ready to take you on a ride through the clearest of roads.
See it on Amazon
A Device that Always Stays Updated
TomTom GO 520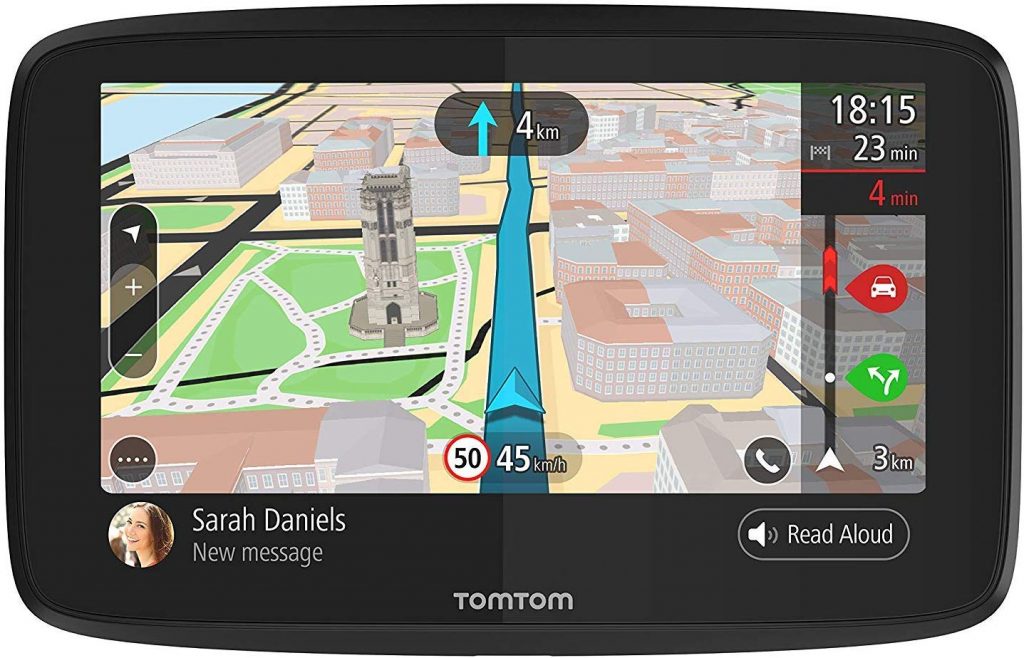 The TomTom GO 520 packs in a 5" capacitive touch display to begin with. It is an impressive device that can take you wherever you want to go. When you buy a TomTom GO you get all the necessary paraphernalia required to mount this device inside your car. Once mounted, you can easily connect this device to a preferred Wi-Fi network and go for a run. As you move about more and more, this device learns about your driving and starts suggesting destinations, thereby saving you a lot of time.
This handy GPS system has more to offer than what meets the eye. It can connect with your phone and can access your personal contacts and text messages. This device is programmed to be able to read out text messages or make a call for you on command. You can keep your hands on the steering wheel and focus on driving as you interact with the device. The GPS system can download and update any map from anywhere around the world free of cost when it is connected to a Wi-Fi network.
Who should buy this?
Those looking for a device on which one can have great control through voice should go for the TomTom GO 520. You can talk to Siri or Google Now through this GPS unit by connecting it to your device.
Those who would like to answer phone calls while driving. This GPS system also has an attached microphone to help you take important calls as you are driving through a busy road.
See it on Amazon
Travel through the Roads in High Definition
Garmin DriveSmart 61 NA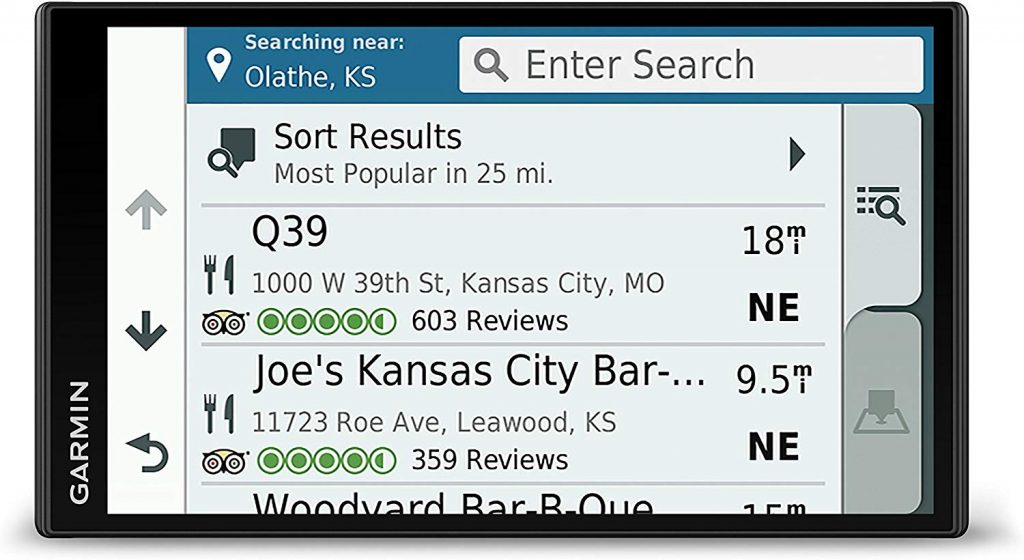 The Garmin DriveSmart 61 NA is an impressive car GPS device. It is loaded with a lot of functions that go on to make it very user-friendly. It packs in a giant 6.95″ screen to ensure proper visibility at all times. The capacitive touch display shows a terrific resolution of 1024 x 600 pixels. Once you have got this device, it will update to newer maps till its last day of use. You can connect this device to your phone through an app. This is an excellent choice because you also get live updates on traffic and parking whilst connected to the phone.
There are many other benefits that you can reap when the device is connected to your smartphone. It is not an ordinary GPS device and comes with a lot of intelligent functions. It is enabled with options for Bluetooth calling. It also includes a TripAdvisor feature which can easily map out places of interest for you at any location. Updating this device for new software and maps is not a big deal- it has an in-built Wi-Fi and can update for itself. You can also connect it to a computer it is compatible with Windows XP or Mac OS X 10.4 and higher versions of these operating systems.
Who should buy this?
For those who are looking for a simple and effective car GPS system with a pronounced display, the Garmin DriveSmart 61NA is a reliable choice.
See it on Amazon
The Best Rechargeable GPS System for All Occasions
Ineed GPS Navigation for Car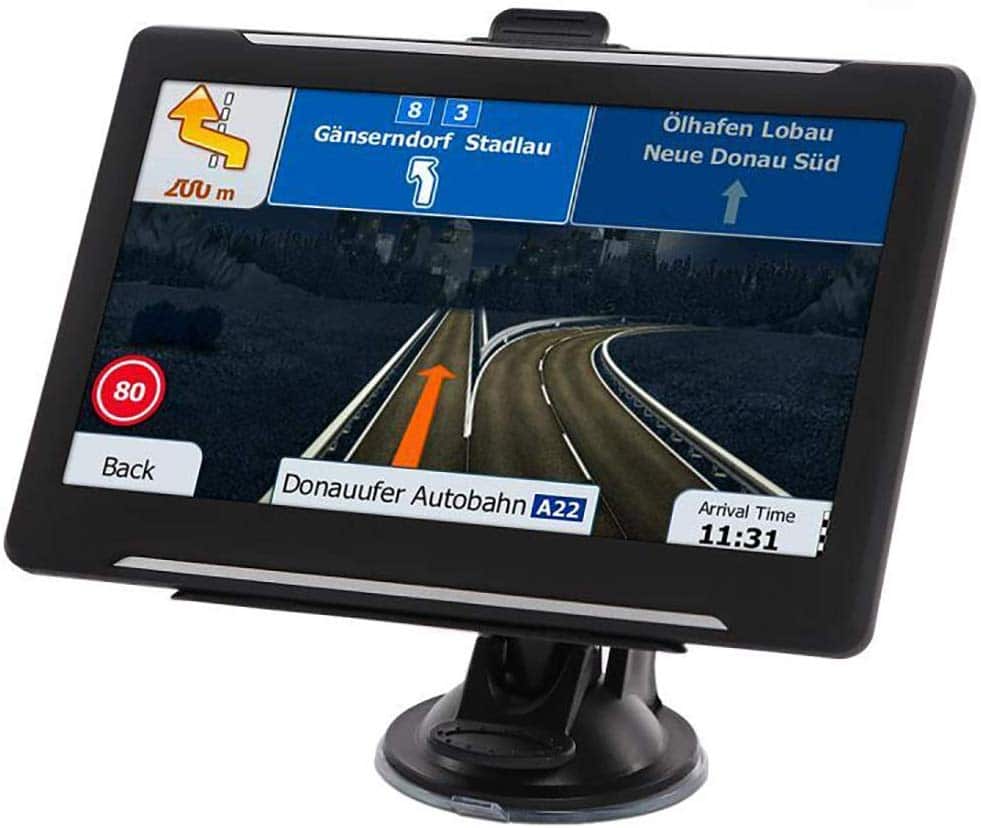 Ineed presents a GPS Navigation System for cars that is designed to always lead you to your destination in time. This GPS device runs smoothly on a significant DDR 256MB RAM. It can also store a lot of data, maps and so on in the 8GB storage. It features a tremendous 7" screen featuring 800 x 400 pixels screen resolution. The GPS is speedily activated in just 42 seconds.
You have to run this device via an in-built Li-ion battery. The battery is rechargeable and uses a 1.5A DC supply over a range of 9 to 24 volts. You can also charge devices such as smartphones, iPad and any other 5V electronic device in this car GPS system. When the device is connected to a power source, it is indicated through a red LED indicator. You can run any form of video such as ASF, AVI, WMV, 3GP, MP4 and so on in this device, various formats of photographs and even text files are supported by the GPS device. This device will interact with you throughout the drive, just like a friend. You can even control the volume in this device as the sound blares on from an in-built Hi-Fi speaker. If you are not tech-savvy and have difficulties handling digital tools, then you can call up the customer service at any time. They are available 24×7 to help you around.
Who should buy this?
If you like the smooth feel of a touch screen or the easy maneuverability of buttons, you can buy this GPS device and control it through both actions.
See it on Amazon
Best GPS System that Supports 3D Maps
Junsun GPS Navigation for Cars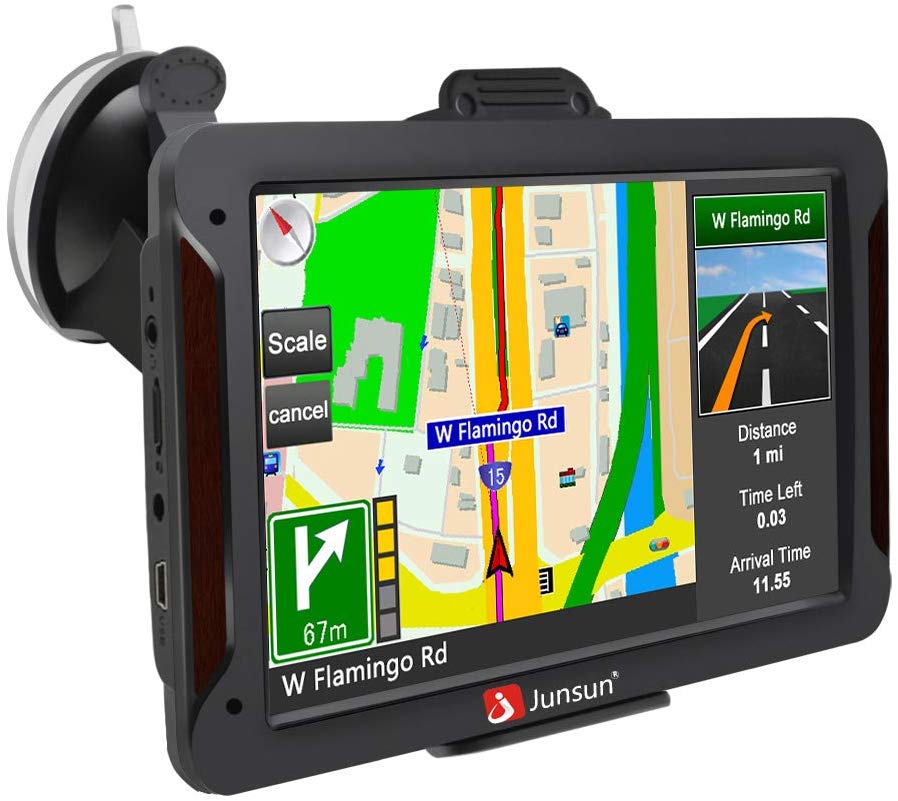 The Junsun GPS Navigation for Cars is a handy and versatile navigation system for cars. It runs on a 7″ display screen having resolution 800 x 480 pixels. It is loaded with 8GB ROM and has up to 32GB expandable memory to store all the maps that you want. It is designed for US roads and has preloaded maps for North America which includes Canada and Mexico. One of the finest features of this GPS system is that it shows both 2D and 3D maps. A 3D map is a great friend when you are traversing through new and unknown territories as it helps you to pick up landmarks.
You can plan your route with this device installed in your car. It gives you recommendations for all nearby hospitals, restaurants, gas stations, etc. on the way to your destination. You can select from an array of route options – Fast, Green, Short and Easy. It also highlights the best lane to drive such that you do not have to take abrupt twists and turns. When you buy this innovative tool, you get all the paraphernalia required to set up this device.
Who should buy this?
Do you like to ride a bicycle as much as driving? Do you change vehicles often or love to walk around in a new city? This GPS device is suitable for different modes of transport such as bicycle, taxi, bus, ambulance and even for a pedestrian, giving you the best routes in each case.
For those who are looking for an intelligent GPS tool in the US, this is the best gadget as it records every detail about the streets. Speed alert, Road name broadcasts, sound warnings – this device keeps you updated about everything.
See it on Amazon
Best GPS System with a Stunning Screen
JANFUN GPS Navigation for Car
The JANFUN GPS Navigation for car is one of those satellite navigation systems packed with high-end hardware elements. It boasts of a high performing CPU unit running on 8GB ROM and 256MB RAM. It is compatible with expandable external memory up to 32GB. It is an intelligent tool that can figure out the best, easiest and fastest route to any destination. It has maps of both North and South America preloaded and you can update to or get the maps of any place around the world.
This GPS Navigation tool is very easy to read because of the giant 7" TFT LCD screen. You can just glance over it as you focus on diving and you will know if you are going in the right direction or not. The device packs a resolution of 800 x 480 pixels. The screen is manufactured from high-grade tempered glass to give it a strong edge. It is also lined with potential sensors. The screen can be easily viewed from all angles and has a bright display even under direct sunlight. The device is equipped with features to run most kinds of video and audio files. You can even go through an electronic album using the photo viewer.
Who should use this?
All of those who speak a different language other than English such as French, Spanish, Polish, Portuguese, Russian, and so on can use this GPS system. The voice settings ensure that the user can set a language according to their choice for voice interactions.
See it on Amazon
Best GPS System Running a Powerful Operating System
EFU GPS Navigation System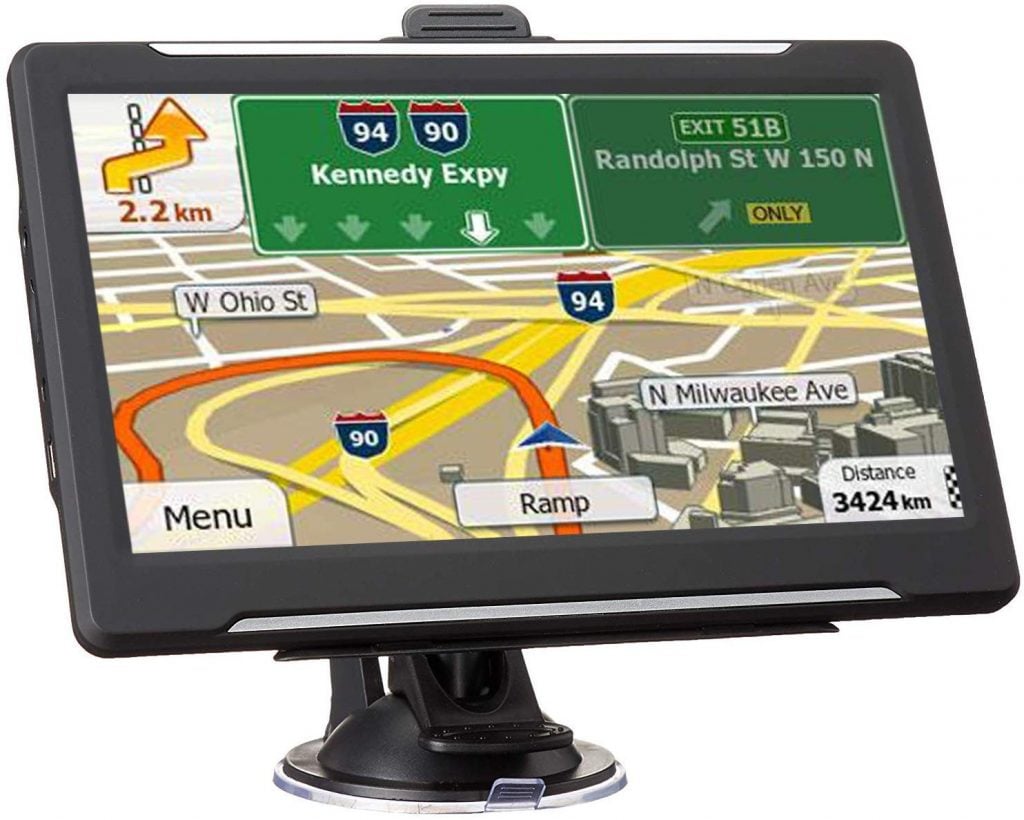 The EFU GPS Navigation System runs on a powerful CPU equipped with Sirf-Atlas 5 Chip Technology. It is loaded with an impressive 256 MB cache and can run at twice the clocking speeds of other GPS systems. The handy tool runs Windows CE 6.0 operating system to give you route instructions. You will find that this system has a 7″ high brightness display screen. The screen is so made to make it more accessible to the elderly and those with poor eyesight. The screen is so effective that you can read it even under the dazzling glare of the sun.
The GPS device is loaded with maps for 101 regions and can be customized to speak 58 different languages. It can prompt you about traffic, parking areas, and the best routes to take in real-time. Even if you have taken a wrong turn or going through the wrong route, this navigation system will constantly upgrade the route to optimize the time taken for travel using intelligent error correction. The EFU GPS Navigation System runs on a rechargeable Li-ion battery that can keep running even when the power is turned off and always has your back.
Who should buy this?
For those who wish to own a GPS tool that can support multiple photo and video file types, this GPS Navigation tool is a handy companion.
See it on Amazon
Best GPS System with a Huge Collection of Maps
CarGad Car GPS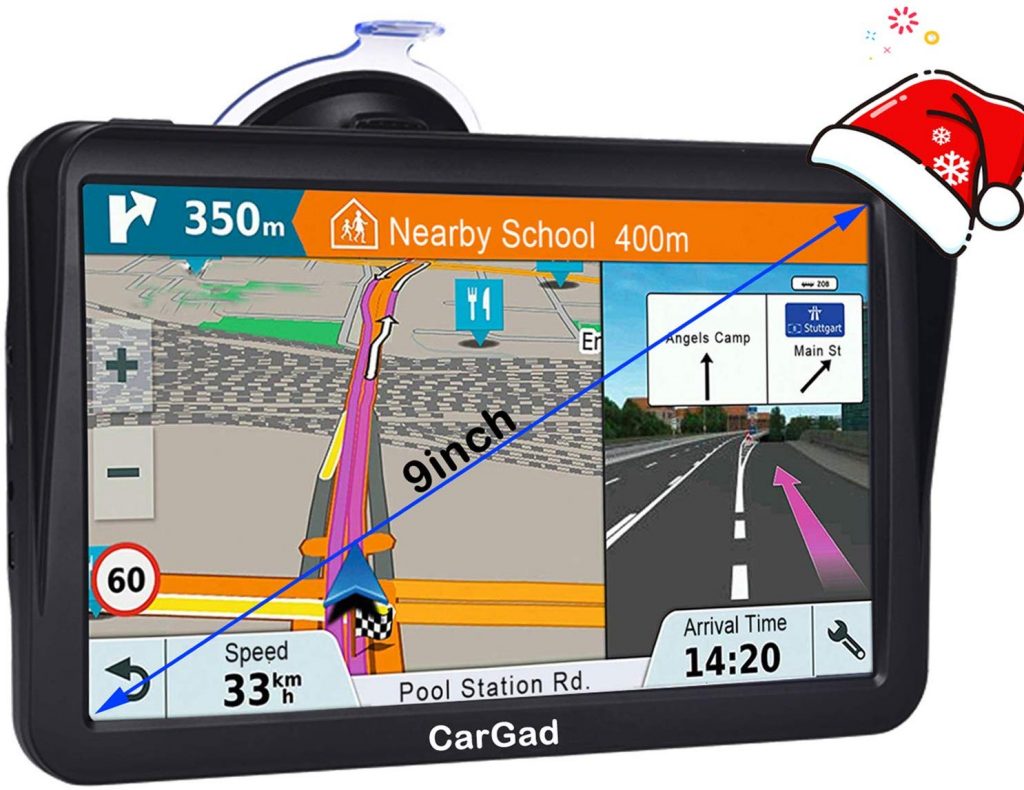 The impressive CarGad Car GPS comes with an excellent 9" touch screen display which is so easy to look at. It is powered by a 256MB RAM and has storage up to 8GB. With a huge display and an effective voice broadcast, you no longer have to squint at the display screen to get directions. This car GPS device packs in a lot of power and functions. The GPS sensors are powerful and go on serving you even in areas where your phone has stopped working. The huge collection of the most recent maps from North and South America makes it such a reliable GPS system.
Working this GPS device is as easy as passing a hot knife through butter. You can reach any destination by searching for addresses, postcodes, and coordinates. Whenever you are taking a trip, the GPS indicates all the places of interest in the area. As you are preparing to drive around, you get to choose from 4 different route options – Fast, Green, Short and Easy. Your GPS system gets connected to and reaches you through the car speakers. If you are unhappy with this system, you can return it and get a full refund within 90 days of purchase.
Who should buy this?
For those who are looking for an intelligent GPS companion for the car which tells you about every obstacle on the road, the CarGad Car GPS is an amazing product. It has functions to record or broadcast such things as Active Lane Assist, ETA, speed of the vehicle and speed camera alerts, and so on.
See it on Amazon
Best GPS System Running on a Powerful Battery
CARRVAS GPS Navigation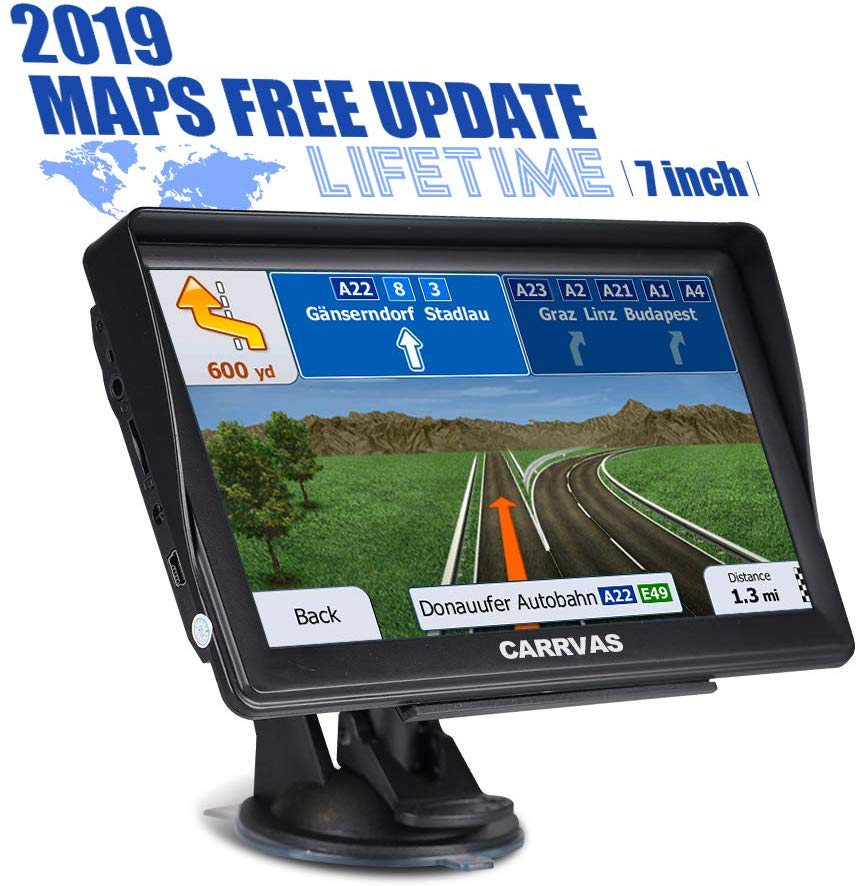 The CARRVAS GPS Navigation system for cars has packed in quite a powerful setup. It has an appreciable 7″ display screen that is very easy to follow. The screen features a capacitive touch display at 800 x 480 pixels resolution and is so bright that you can effortlessly view it under the sun. The GPS device is also loaded with a superb 2500 mAh rechargeable polymer battery. This device will keep working for 3 hours in standby even when it is not attached to a power source.
The system comes with preloaded maps of various places in North and South America. The maps are highly detailed and have the latest information about the roads. You get to upgrade the maps as long as you use this GPS system. You can also download and run newer maps from anywhere around the world. You will continue receiving alerts about all such road details as speed limits, speed camera notifications, turn alert, red lights and so on. You can set routes as you like with all the necessary points of interest being marked upon the map for your benefit. This is a complete tool to get you through the most enjoyable road trip experience. For those who have difficulties with technology, the helpline top CARRVAS is open 24 x 7 and they are always there to help you around.
Who should buy this?
Truck drivers can benefit from this satellite navigation system because it has provisions to load the height, width, length, and weight of the truck. This means you can avoid all those routes that limit your driving experience.
See it on Amazon
Best GPS System with Multi-Language Option
NAVRUF Car GPS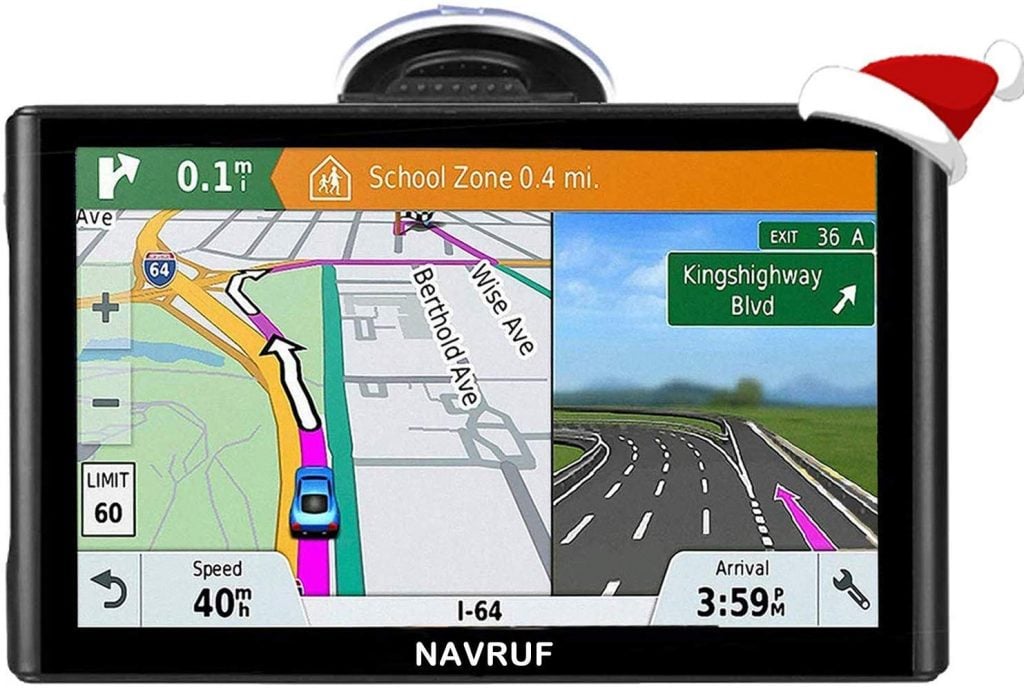 You can boast of a huge 7.5″ touch screen with a bright display with the NAVRUF Car GPS. It runs smoothly with 256MB ROM and you can store all the maps you need in the 8GB storage space. It is loaded with the latest maps from North America to help you around the continent.3D Maps feature is very helpful when you are traveling through a new region as it helps you to easily pick up landmarks. The GPS device works with any kind of vehicle, even when you are walking. It helps you pinpoint the exact location using 12 exclusive GPS channels.
With NAVRUF Car GPS, it does not matter if you are an English speaker or not. The GPS Voice services can be activated in 41 different languages making this a very versatile unit for your car. You can search directly for any address or postcodes, or make a general search about places of interest in the vicinity. You can also save your favorite or most visited destinations in the NAVRUF Car GPS and save you time when you want to go there the next time.
Who should buy this?
Those looking for a GPS device that can store various files. The GPS device comes with huge storage capabilities and you can store all the maps, audio and video files into the mass storage derive at your leisure.
See it on Amazon
Best GPS System Equipped with All POIs
Garmin Drive 50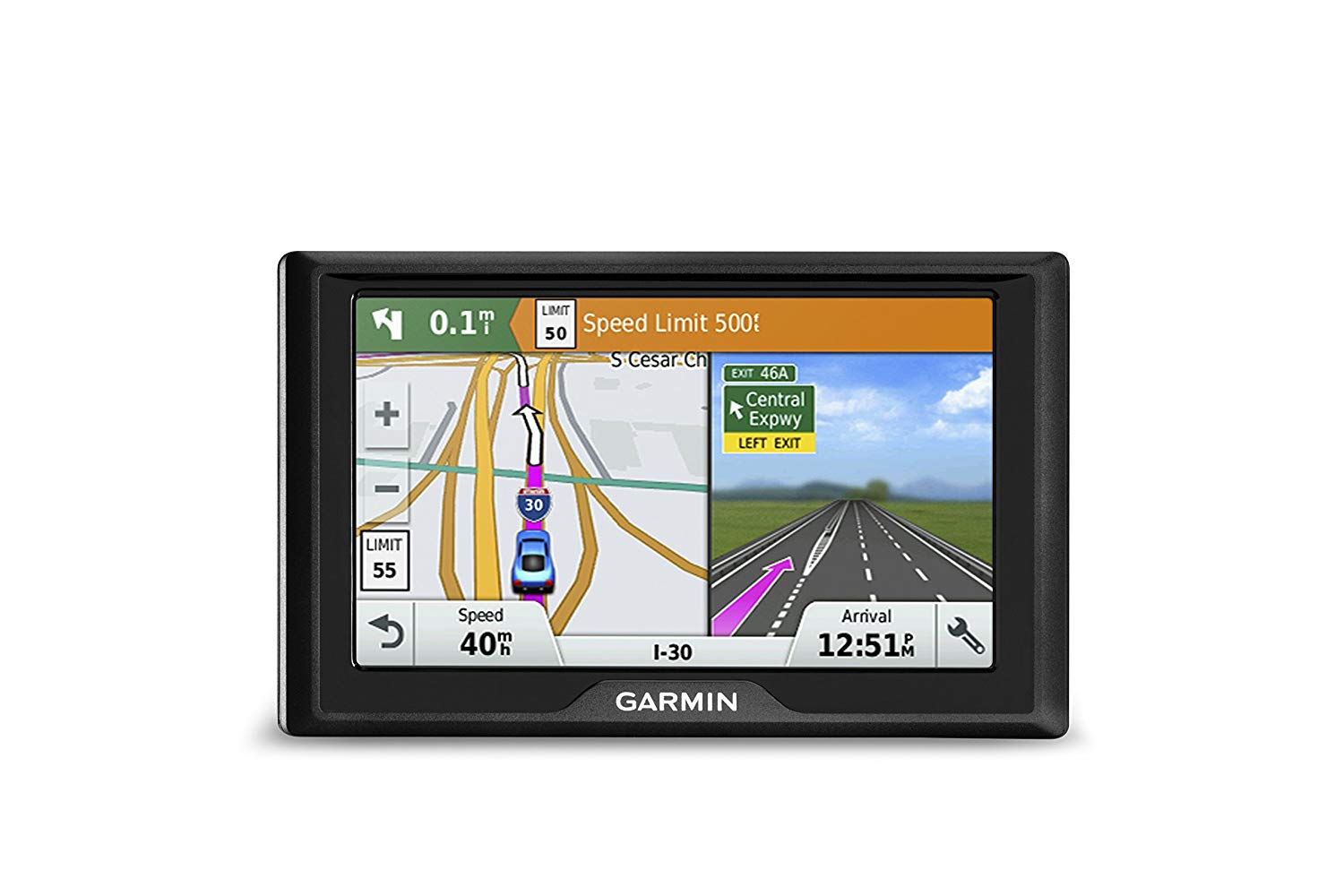 If you are looking for a GPS device with a smooth and bright touch display, the Garmin Drive 50 is the one for you. It is a useful device featuring 480 x 272 pixels resolution on a TFT screen that supports WQVGA color and runs on a white backlight. An exclusive feature of this device is that it is loaded with hundreds of maps from Foursquare. When you are using this device you can easily access a plethora of stores, restaurants, gas stations, parking stations, and all such areas of interest. The big-screen visibly features the current location and speed along with speed limit on the lane and ETA.
When you are using this GPS navigation system in your car, you can drive flawlessly and effortlessly. You get lots of updates as you are driving around as an enhanced safety measure. School zones, upcoming red signals, sharp turns, etc. are constantly reported to you through text and speech instructions. You can update the maps in this device and even install new maps for a different country. All you need to do is connect it to your PC. It is compatible with both Windows and Mac OS. You will need higher versions than Windows XP or Mac OS X 10.4 to run this mass storage unit.
Who should buy this?
Anybody who is looking for a GPS device that can work unhindered even when there is a power shortage can rely on the Garmin Drive 50. This device is loaded with a rechargeable battery that can provide backup for up to 1 hour.
See it on Amazon
Best GPS System with the Biggest Screen
XGODY X4BT Car GPS System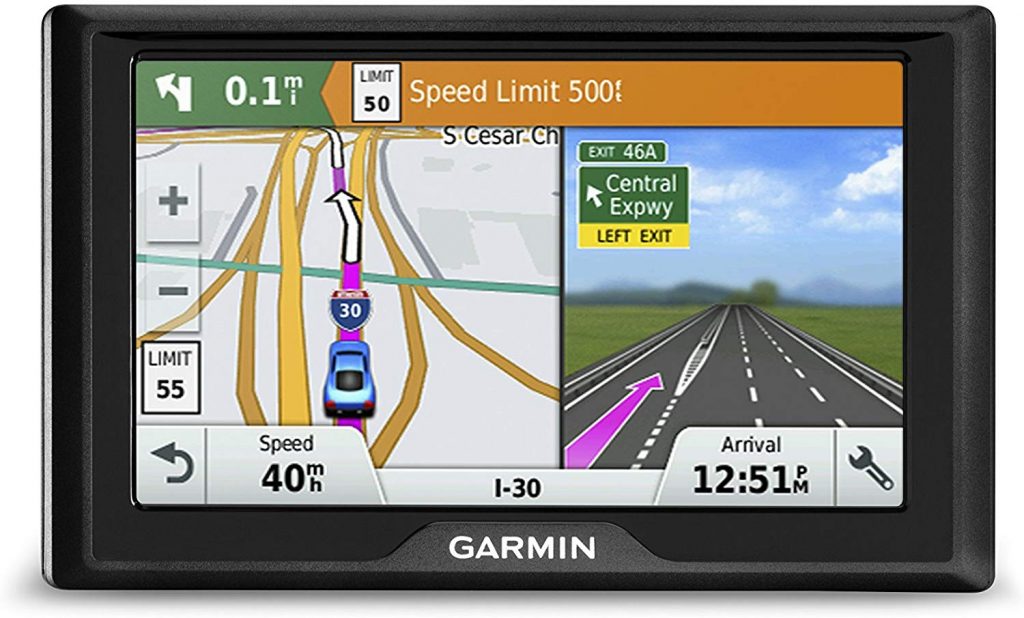 The XCODY X4BT is one of the best GPS Navigation System for your car. It features a humongous 9″ screen and is the ideal companion for cars and trucks. The capacitive touch screen is high in brightness, ensuring that you have a clear view even under bright sunlight. The 800 x 480-pixel resolution is appreciable. Since you can use this device with trucks, you get to set limits for dimensions and weight and thus avoid routes where there are restrictions. You will find fast responses in this device because of the 256MB RAM. You can save all the maps in the 8GB storage, expandable up to 32GB.
The GPS device is loaded with a 2000mAh rechargeable Li-ion battery that can run for 1 hour. The display is high functioning and this device can run an array of audio and video files for your entertainment. With the real-like voice navigation system activated, you don't even have to look at the device as you drive. The spoken instructions are clear and given out well in advance to prepare you. You can even opt for Lane Navigation that chooses the correct lane for you to prevent any sharp twists and turns.
Who should buy this?
For those of you who have a penchant of traveling around within and among countries, the XGODY X4BT is an ultra-handy tool. When you purchase this, you already get all the maps from all over North and South America with millions of POIs marked for your convenience. You can also avail free maps for other countries by simply mailing XGODY.
See It on Amazon
Best GPS System Featuring a Bright, Easy-to-View Screen
JOGANVE Car GPS Navigation
The JOGANVE Car GPS system boasts of an eye-catching TFT LCD screen spanning over 7″ from edge-to-edge. The touch screen features a display with 800 x 480 pixels resolution. It is ingrained with a powerful CPU system that always runs smoothly with an appreciable 256MB RAM. With 8GB of random access memory, you can easily store whatever you want.
When you purchase the JOGANVE Car GPS Navigation System, you get preloaded maps of different parts of North and South America. These are the latest models and if you ever want to update it, JOGANVE is happy to provide download links. Since the device gives you instructions over voice, you can drive hassle-free. If you are not fluent in English, you can choose from 10 other language options which include Spanish, French, Hungarian, Finnish, and so on. It leads to a safe driving action because of the timely updates about red signals, traffic, twists, and turns.
Who should buy this?
Elderly people and those with poor eyesight can benefit from this GPS device. It features a very bright screen having 500-candela brightness. It is clearly visible from all angles and even under direct sunlight.
For those who like to travel a lot and require a lot of maps, this device is the ultimate storehouse with expandable storage of 32GB.
See it on Amazon
Best GPS System That Can Also Serve as an Entertainment Unit
Amgay GPS Navigation for Cars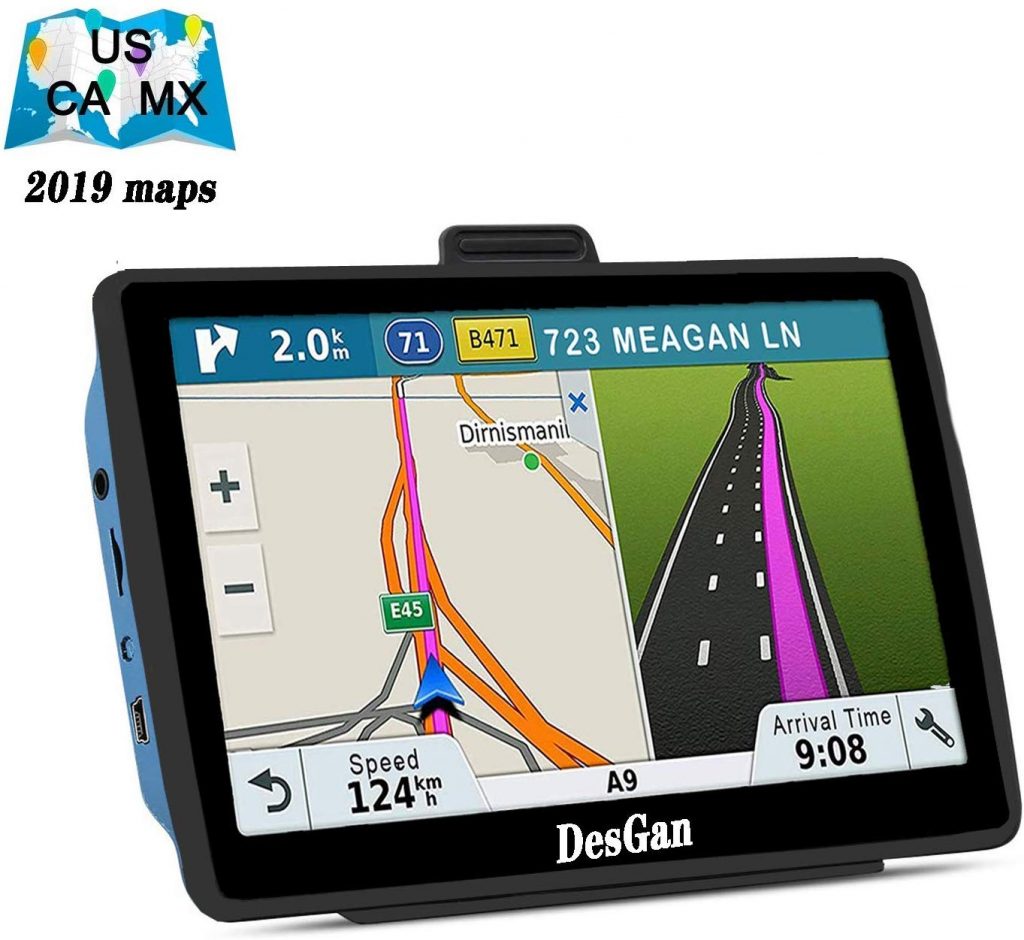 A GPS tool should be simple and easy to use and the Amgay GPS navigation for cars checks on both the lists. It features a smooth 7" display screen that can be operated by touch. You can see the bright display even under the strongest sunlight. You can also opt for the night mode to make the display pleasant when you are driving at night. This machine runs on 256MB RAM and has a storage capacity of up to 8GB. You can expand the memory on this device up to 32GB.
Once you have loaded the maps into this device, you can access them in both 2D and 3D modes. The 3D mode is a very handy feature when you are visiting a new and unknown territory as it helps you identify landmarks. The GPS device can also serve as an entertainment tool allowing you to store various MP3 and MP4 files. You can also connect to the FM radio through this amazing GPS device for cars. All the elements that you require to mount this device on your car are provided in the pack for your convenience. If you are unhappy with this product, you can claim a full refund within 90 days of purchase.
Who should buy this?
For those who wish to rely upon only one GPS device while traveling, this is an exceptional product with the capability of storing maps of more than 50 countries from around the world.
See it on Amazon
Best GPS System Fir Accurate Directions Using 12 Channels
Aonerex GPS Navigation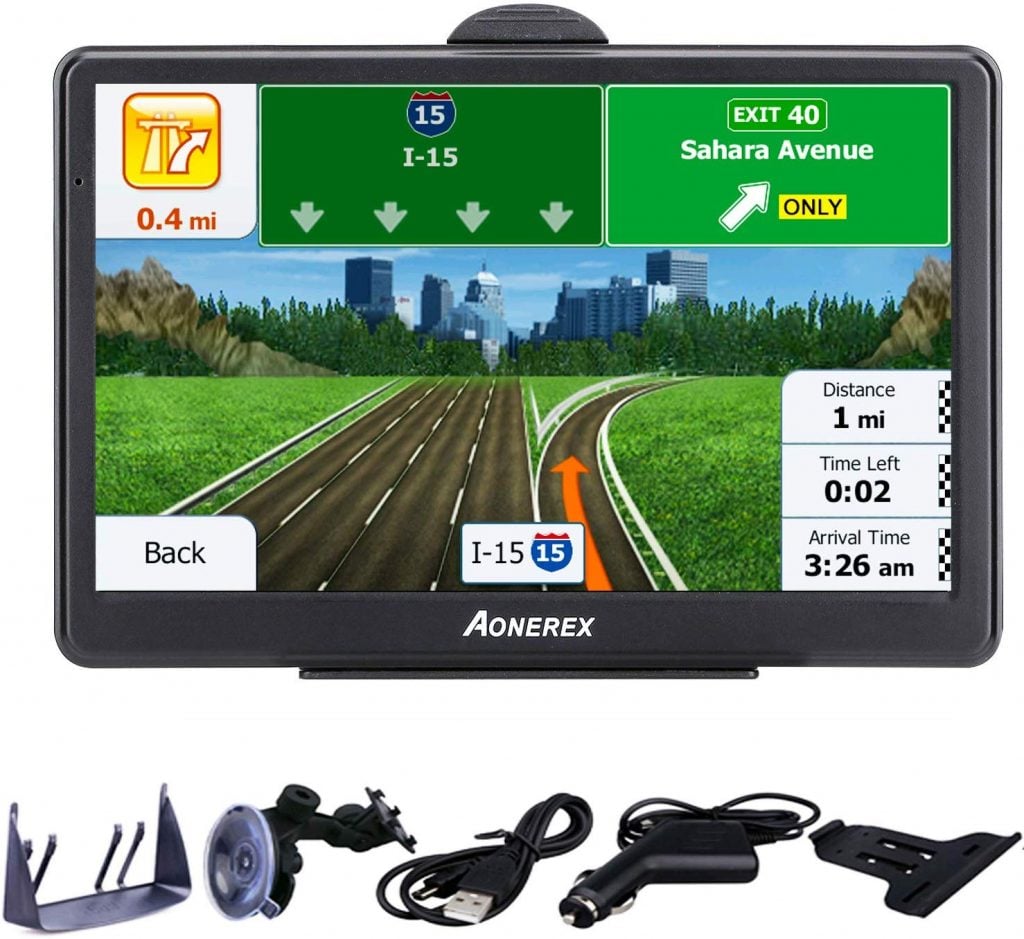 If you are looking for a GPS Navigation tool for your car with the most upgraded maps of North America in 2021, the Aonerex GPS Navigation tool is the device for you. You will find maps for 101 regions and the ability to download more if you are visiting other countries. This device can be run in 58 different languages for ease of use for any user. You get to select from an array of options to get the smoothest driving experience. The device can be specifically set for any kind of transport including walking. You will get the most accurate directions using 12 channels for GPS. It supports locations based on address and postcode. And as you travel, the voice-activated device will give you continuous, real-time instructions through any road.
The Aonerex GPS Navigation tool boasts of a wide 7" display featuring a smooth and sensitive screen. The screen brightness goes up to 500-candela units so that you can always keep track of the road even under sunlight. The impressive 8GB storage allows you to store all kinds of maps that you may require on your journeys.
Who should buy this?
For those who like to stringently adhere to the traffic rules, this device comes with all kinds of traffic updates such as upcoming red light, lane selection and so on.
See it on Amazon
Conclusion
Buying the best car GPS system out there is a simple and easy thing if you are certain about your requirements. Some will find a huge screen more accessible while others may want to get rid of the bulky screen. All you need to do is make a list of all the features that you demand and go for the GPS system that fits with it.
---